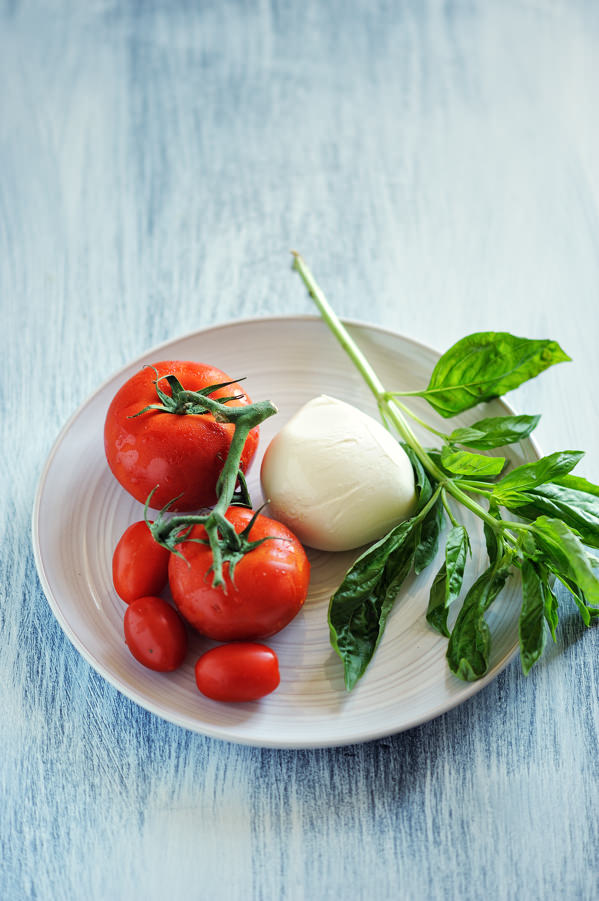 For today's dish I wanted to play around with some Italian classics and mix them up a little.
I remember the first time I ate "insalata Caprese".
I was a young,  long haired man roaming the tourist traps of Rome on a European holiday. I was sitting in a restaurant in Trastevere admiring the passers by and sipping chianti.
I was "soaking up" the atmosphere and feeling very "I-talian". I thought I was quite "sophisticated", you know. (Little did I know I was paying double sitting in these tourist places and that Roman cuisine had its own specialties-but I digress).
The waiter suggested we start off with antipasto and rambled the words "insalata". It sounded very similar to the Greek word for salad so I figured it wouldn't be too risky. When he brought out a plate I was mesmerised by the colours representing the Italian flag.
Sliced fire engine red tomatoes, blobs of milky white mozzarella and shards of glorious green basil.
I have to say my young mind was baffled.
"Where is the iceberg lettuce?  I'm sure he said salad!" I thought.
Anyway, I proceeded to drizzle some olive oil over the top and took my first bite.
I was in love.  This was perfection.
A perfect marriage and another classic "Holy Trinity" of flavours.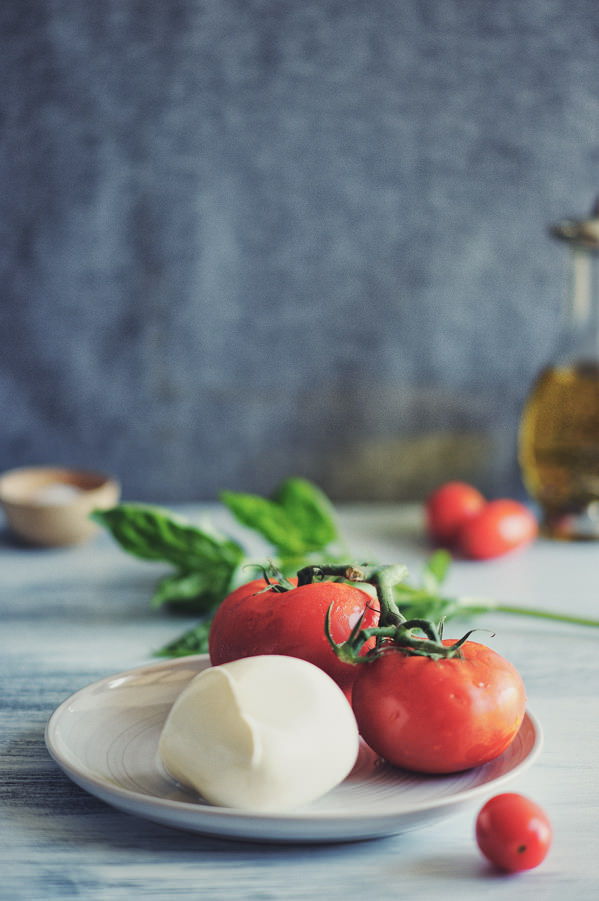 Caprese salad is so easy to make (or you may choose to go to an over priced Italian restaurant-where you can pay up to $17 for one!).
I like to combine it with another classic-bruschetta.
Bruschetta is very forgiving in that you can toast your bread and top it with whatever you desire.  Sometimes I top mine with chargrilled peppers and other times I use marinated mushrooms or store bought marinated artichokes.  Whatever takes my fancy really.
When I feel like more of a meal, I arrange the Caprese salad ingredients on top of some toasted bread, drizzle some beautiful extra virgin olive oil and a quick lunch or dinner is served.
I often serve this as a starter to a dinner party. And don't forget to say "buono" after you've eaten!
CAPRESE SALAD BRUSCHETTA RECIPE
Really?  A recipe?  It's toasted bread with tomatoes, mozzarella and basil!  Here are some of my tips in achieving the tastiest Caprese salad bruschetta.
Use good tomatoes. I love heirlooms when I can get them.
Try buying some real buffalo milk mozzarella. There is no substitute in this dish.
I like sourdough bread. If it's a few days old-even better.  It toasts brilliantly too.
I like to rub a whole peeled garlic clove over the just toasted bread.  It really makes a difference.
Use a good olive oil and some decent sea salt to season the Caprese salad bruschetta.
Avoid bruised or damaged basil leaves.
Eat immediately! (and preferably with a glass of wine)