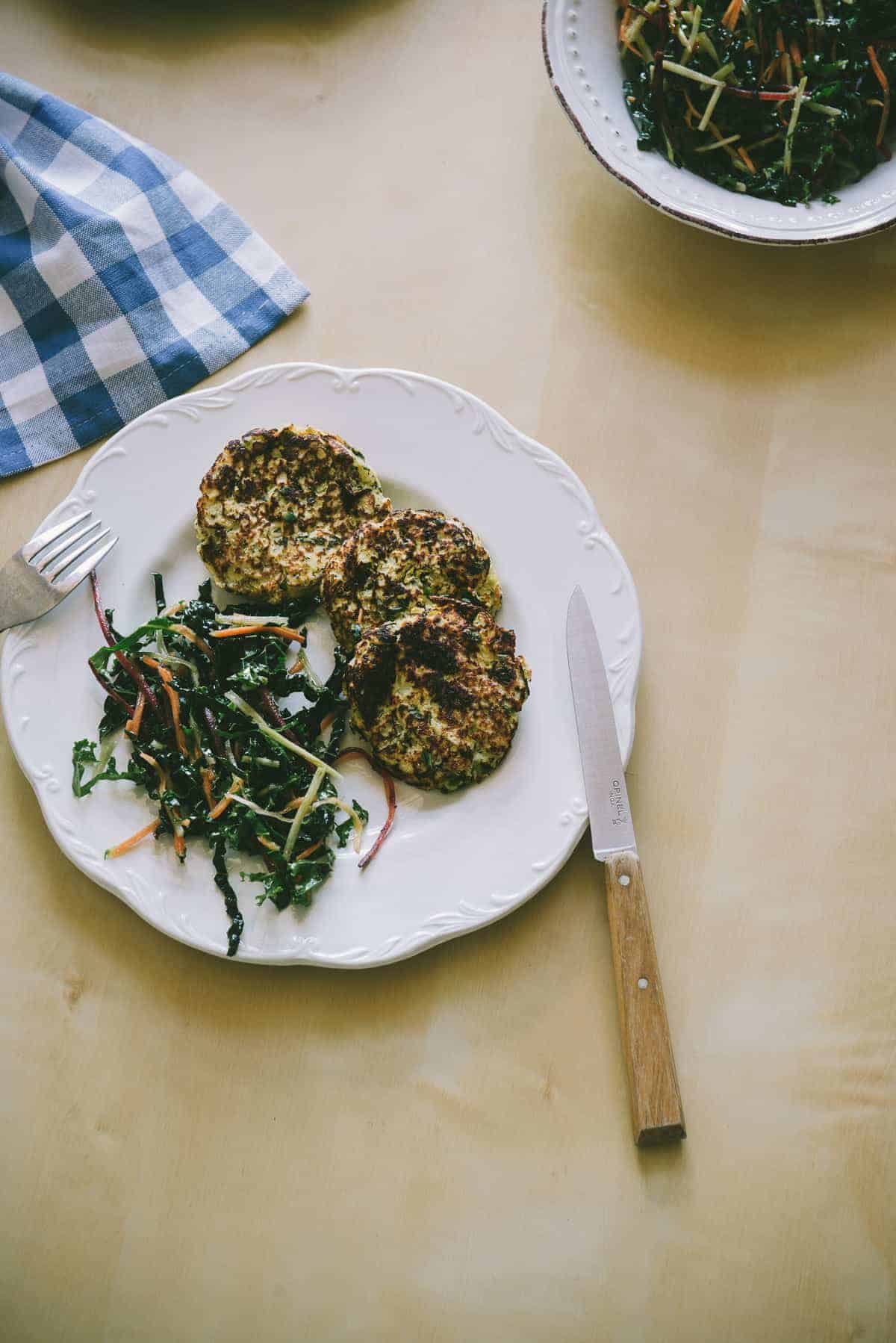 Leftover ingredients.
I think they make the best recipes.
You don't have to be bound by any rules or regulations. Just your imagination.
And that's how these cauliflower and feta fritters came into existence.
In my refrigerator you'll find "another world" of ingredients leftover from the various recipes I find myself testing during the week.
There's always herbs. Bags of veggies. Garlic. Chilli.
And let's not get started on the pantry! I'm currently counting 6 bags of different flours all held tightly by washing line pegs!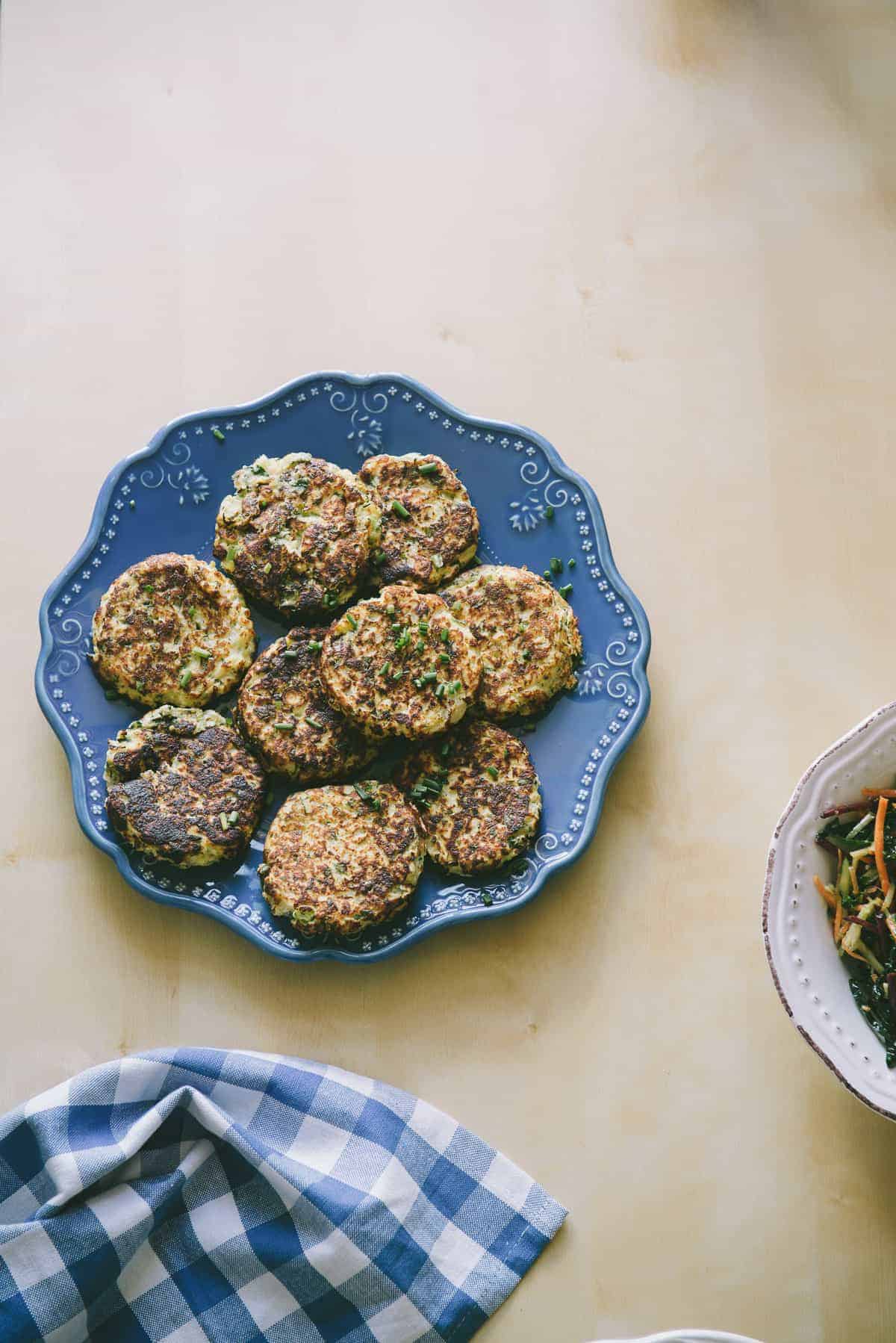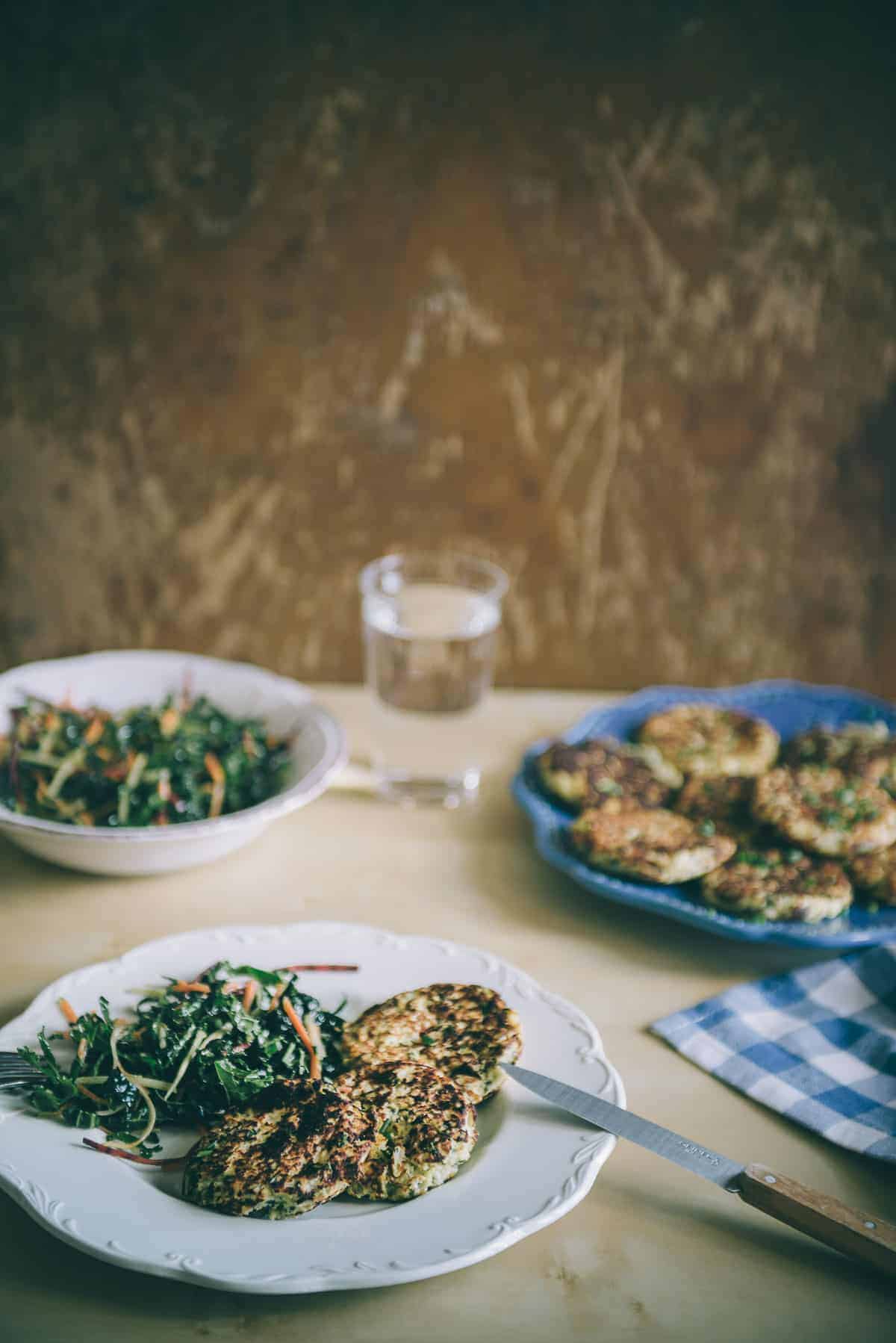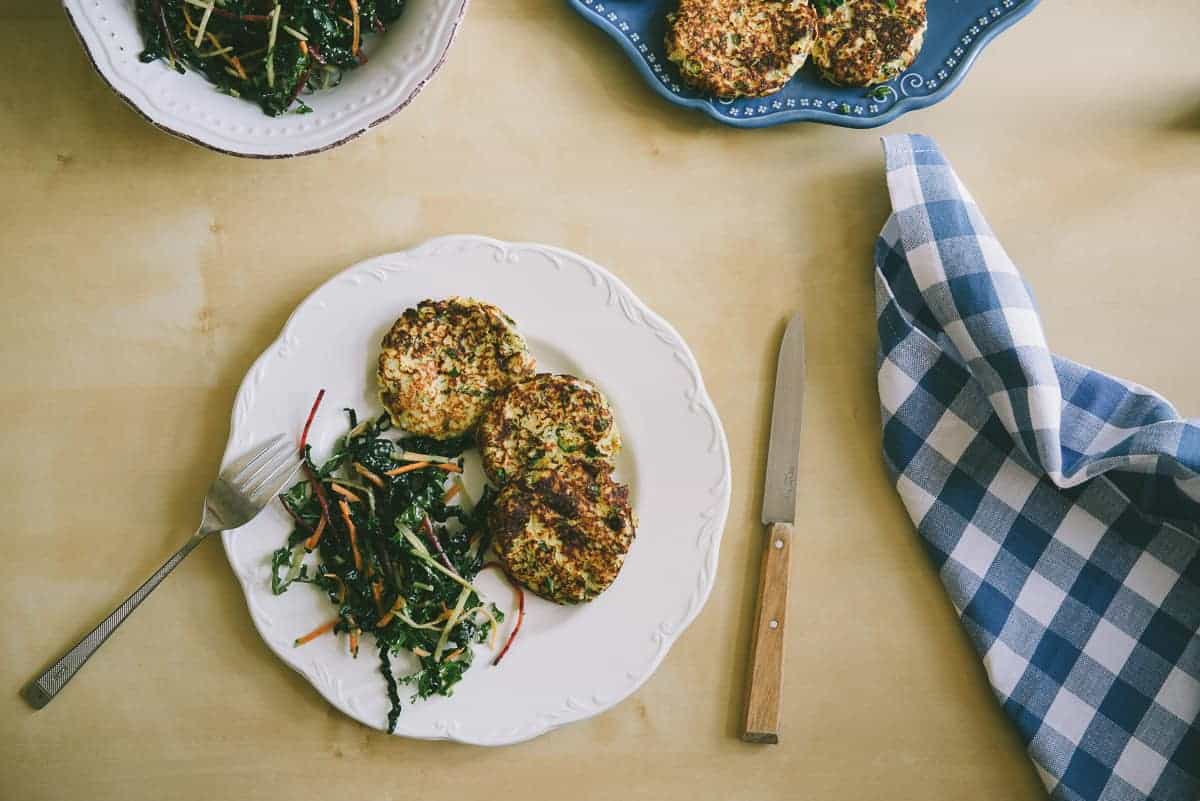 The flavour profile of these fritters is quite similar to my baked zucchini fritters a.k.a "kolokithokeftedes".
I've used dill, mint and a whole heap of parsley for a nice herby taste.
And they're gluten free too!
I also decided to use coconut flour to bring it all together and I have to say this ingredient still tends to baffle me.
It's quite absorbent so a little goes along way. Initially I only used two eggs but had to add one more to make the mixture more batter like.
You can add any cheese you like here but I quite like the tanginess and saltiness of the feta in this recipe.  (I still had some leftover from my fasolakia recipe!).  Also, adjust accordingly if you use a fresh cheese like ricotta.
I served them up with a kale salad and sat down to the most delightful dinner that evening.
Hope you enjoy this leftover creation as much as I did.
How do you use your leftover bits and pieces that reside in your fridge and pantry?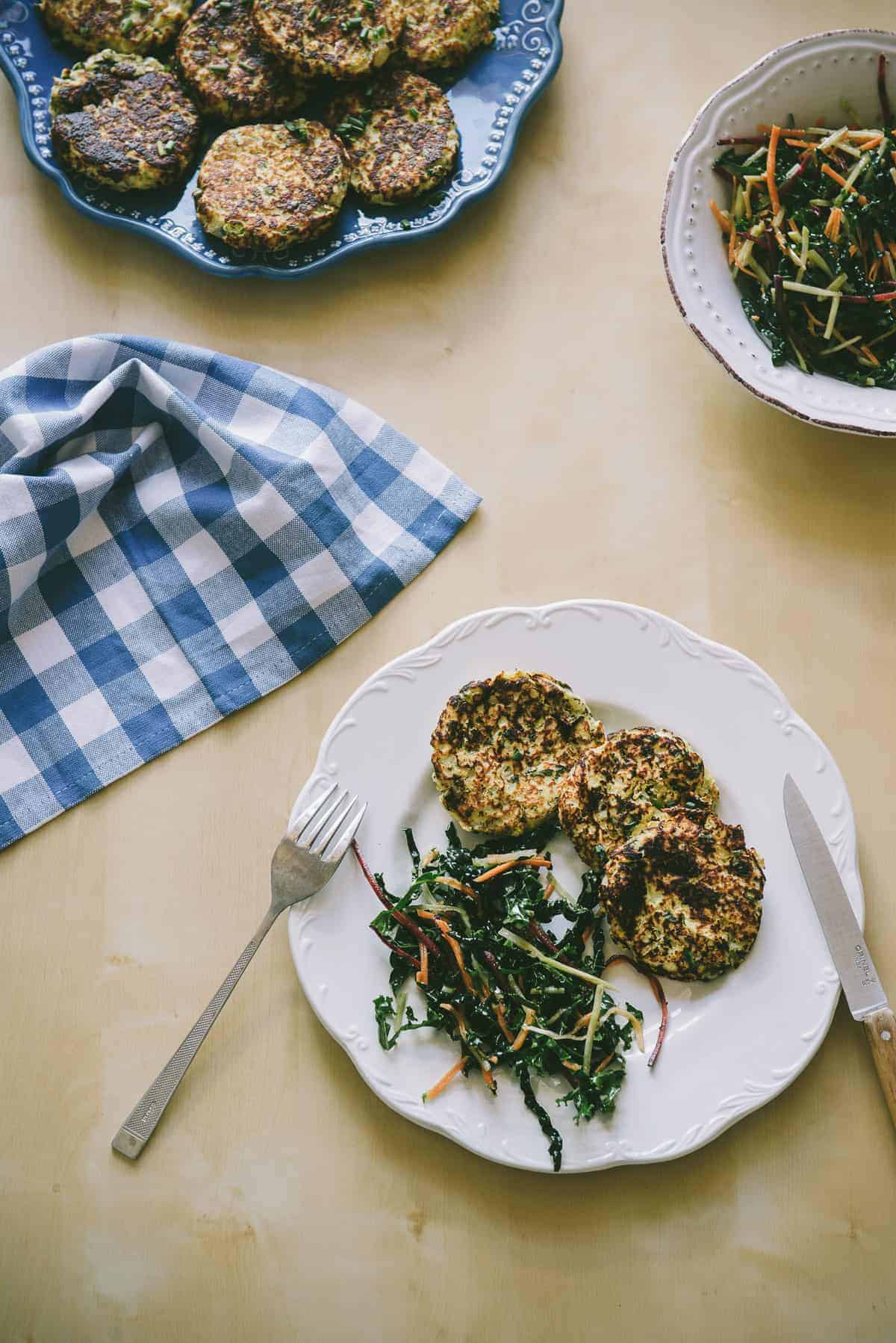 CAULIFLOWER AND FETA FRITTERS RECIPE
Makes approx 12 fritters
Ingredients:
½ head cauliflower (approx. 400 grams) chopped into florets
½ cup chopped fresh flat leaf parsley
¼ cup mint, finely chopped
2 tablespoon dill, finely chopped
pinch sumac
100 grams feta cheese crumbled
3 eggs, lightly beaten
1-2 tablespoon Greek yoghurt
¼ cup coconut flour
Instructions:
Place the florets in a steamer basket and steam over the stovetop for 5-6 mins until just tender. Once cooled place them in a large bowl and mash roughly with a fork or a potato masher.
Add the remaining ingredients and stir until combined. the mixture should be simiar to a thick batter. (Adjust if too wet or too dry).
Heat a pan on a medium to high heat with some olive oil and dollop one heaped tablespoon of the fritter batter onto the heated pan. Alternatively you may like to use egg ring moulds for a more even shape.
Cook for 2-3 mins on one side until browned and flip over using a spatula to cook the other side for another 2-3 mins.
Serve with a salad and some Greek youghurt on the side.