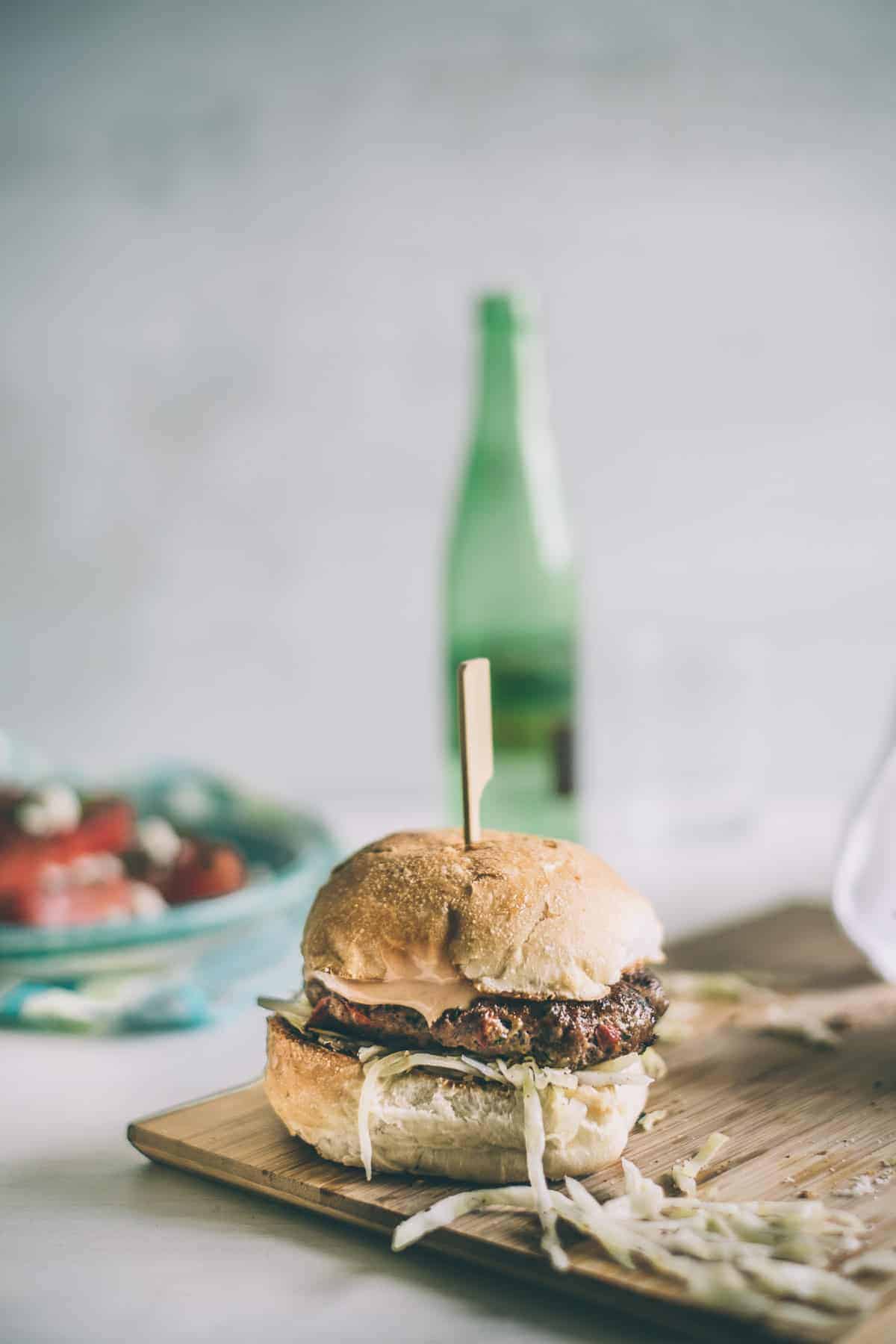 Who doesn't love a good burger?
Made properly they are a thing of beauty.
A nicely toasted bun, a good succulent patty, add some fresh condiments and you can almost call it perfect meal.
And you don't even need cutlery!
If I truly had the space and a bbq to go with it, I'd be making burgers all year round. However, that isn't the case so instead I rely on my trusted skillet pan and a good hot oven.
When I made my biftekia with salsa verde awhile back, I rambled on about how I loved a good sauce to accompany them. And today's burger are no exception.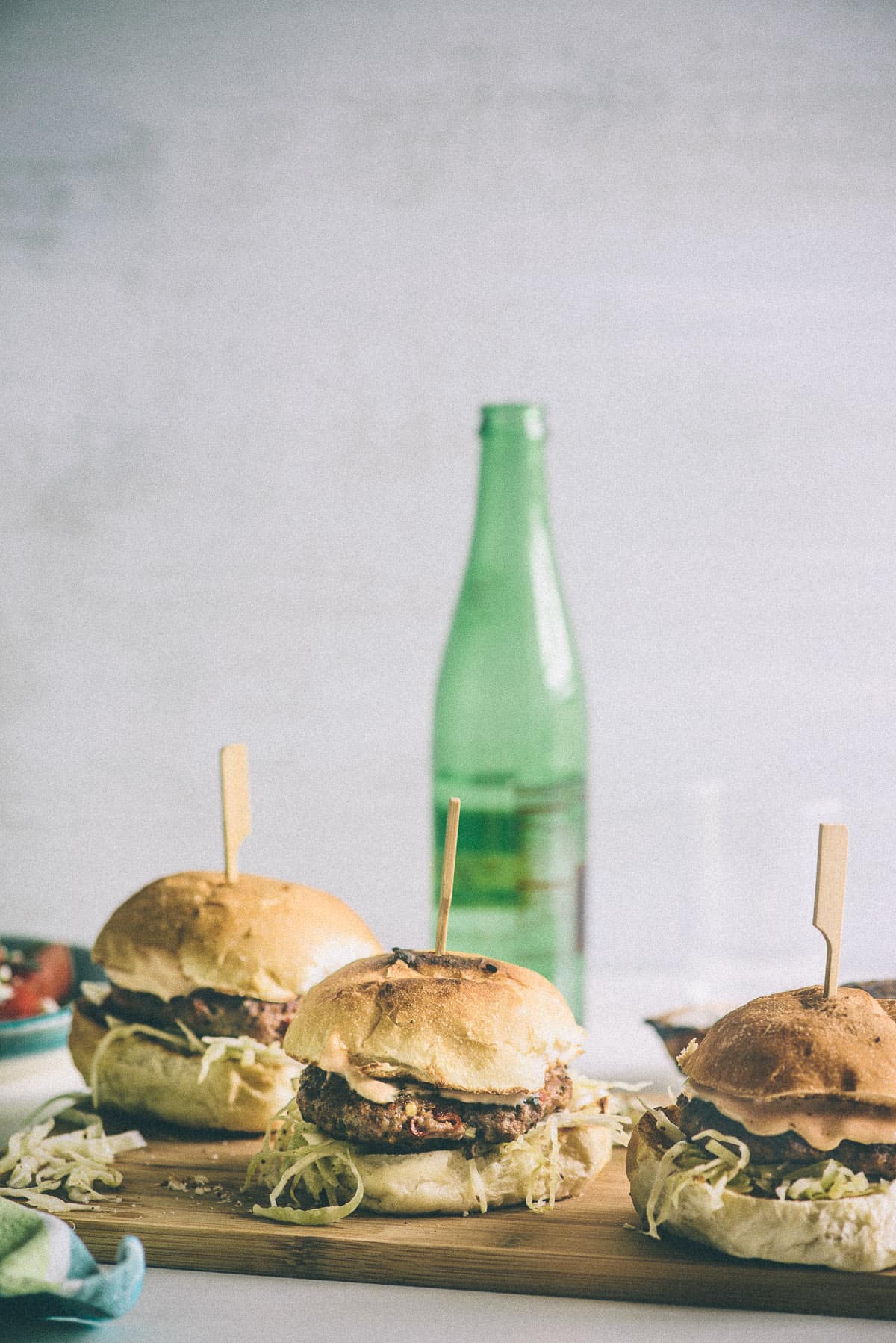 The meat patty is a combination of lamb mince, spiced up with a hint of chilli and some earthy cumin. If you find the lamb mince too strong on it's own, combine it with some beef mince. There are no specific rules here!
The sauce is a harissa mayo and for a bit of green I've gone with shredded savoy cabbage tossed with sumac and lemon juice.
It all comes together to form this beautiful "Middle Eastern" inspired delight.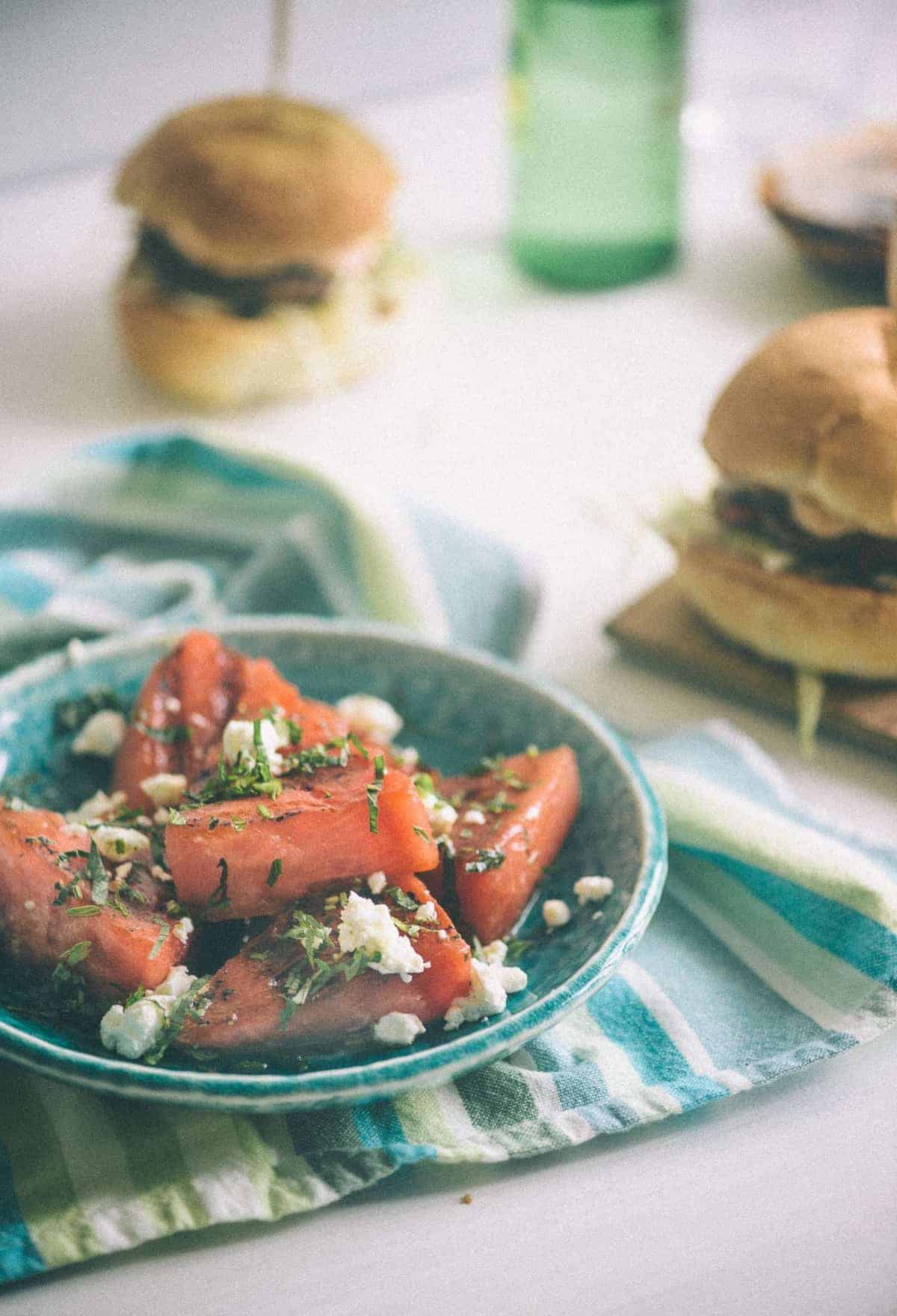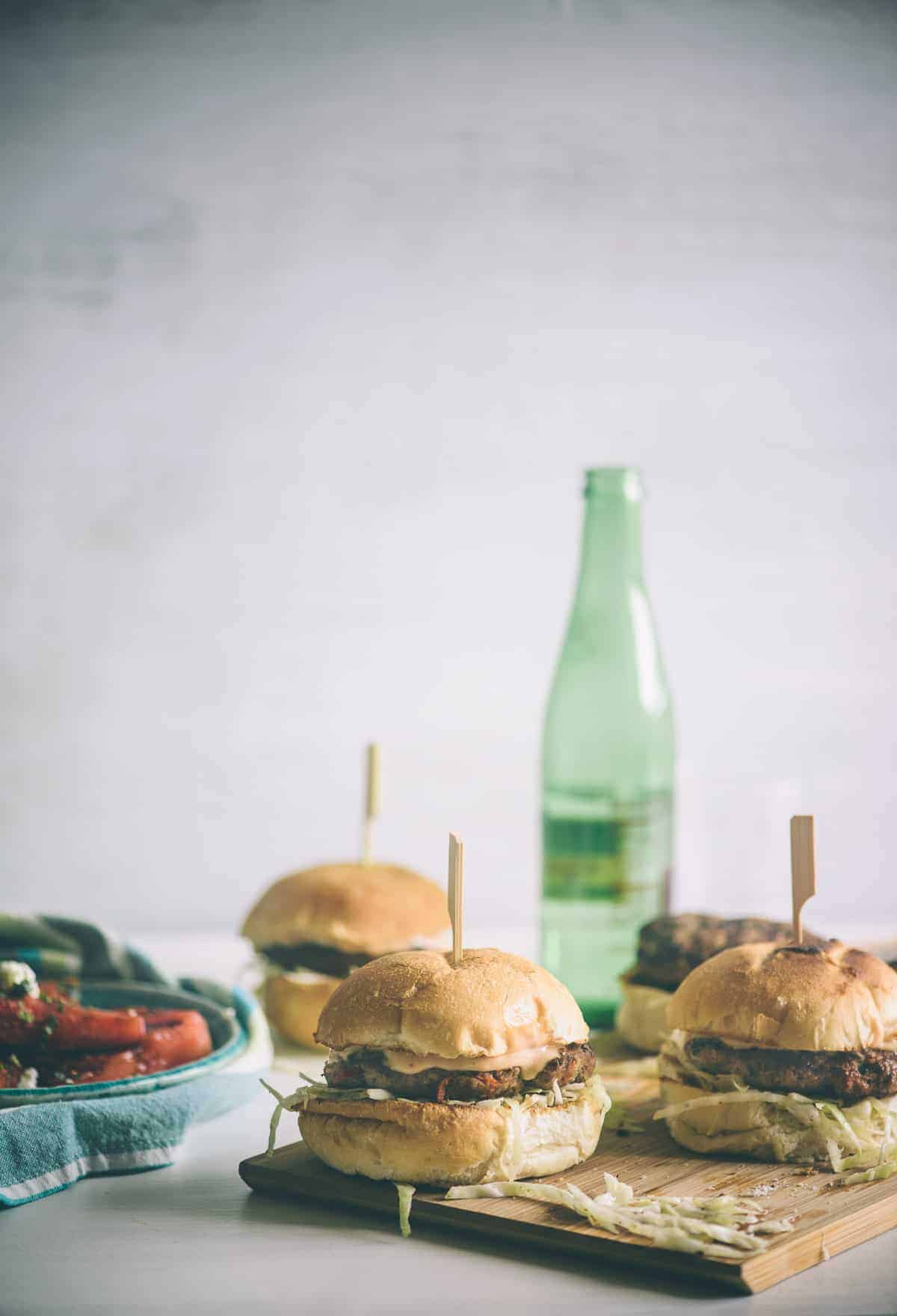 Now let's talk about the sides.
I've opted to try something a little different today. There are no fries in sight!
With my newly acquired grill skillet I've decided to chargrill some watermelon. Yes watermelon. And it certainly is different to my watermelon salad I featured a few years ago.
It sounds a little odd but even I was surprised how delicious this turned out. The watermelon takes on an intense, caramelised sweetness when grilled. In order to bring that sweetness down a bit and to provide some contrast, I've paired it with some crumbled goats cheese, fresh mint and a red wine vinaigrette.
Score!
Even though I loved the home made burger, I was secretly more excited about that watermelon salad. It just brought everything together perfectly.
The sun is shining again. Summer has returned…
Now let's get grilling!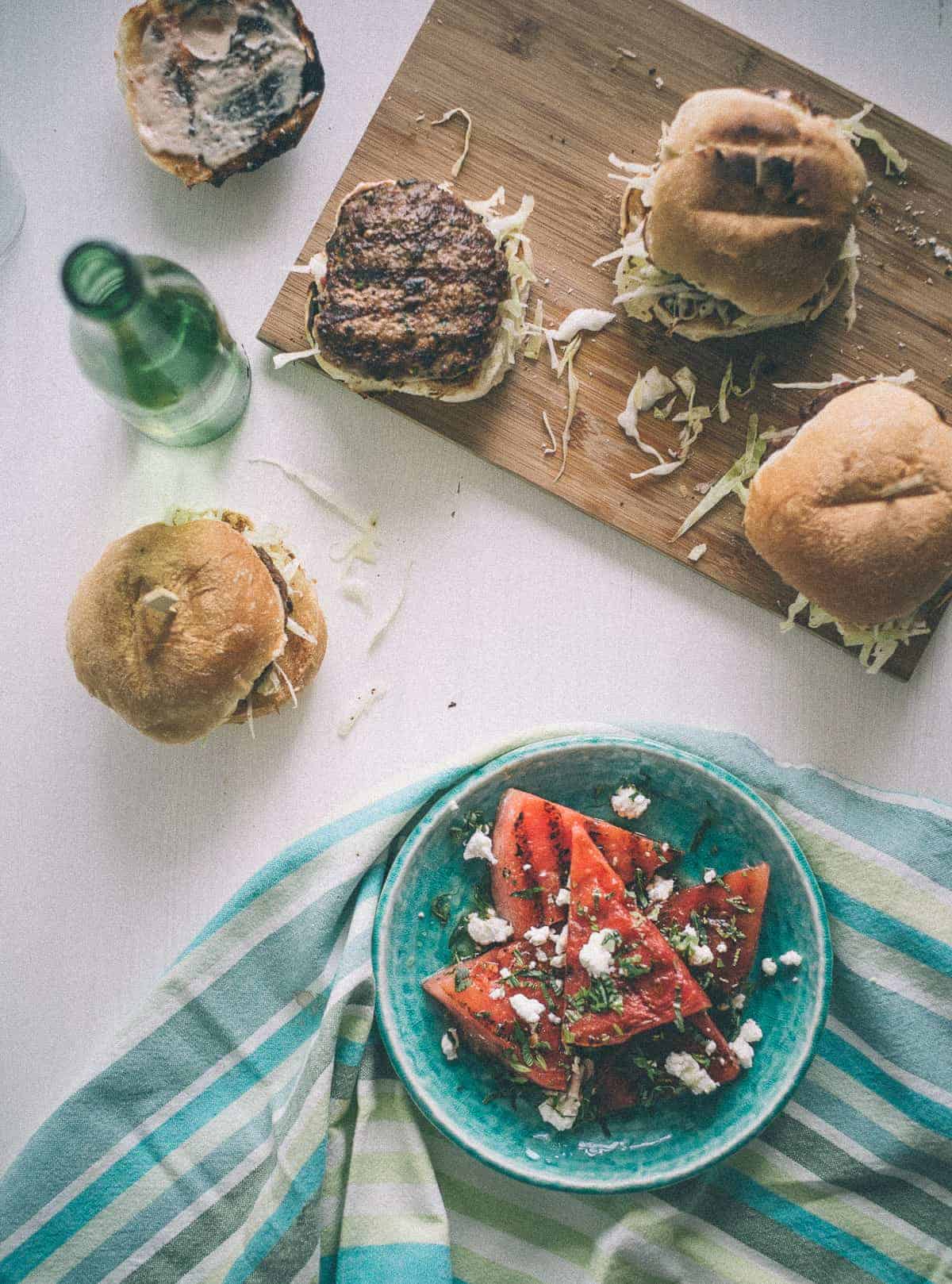 LAMB BURGERS WITH A CHARGRILLED WATERMELON SALAD
Serves: 6
Middle Eastern inspired burgers served with a chargrilled watermelon salad.
Ingredients:
For the burgers:
500 grams lamb mince
1 spring onion (green onion) thinly sliced
1 whole chilli, thinly sliced
1 teaspoon ground cumin
1 teaspoon ground coriander
1 egg
¼ cup quinoa flour or oatmeal
1 tablespoon pomegranate molasses
salt and pepper
shredded savoy cabbage
olive oil
squeeze of lemon juice
1 teaspoon sumac
½ cup of good quality mayonnaise
1-2 tablespoon harissa paste
toasted buns
For the chargrilled watermelon salad:
1. 6 slices of watermelon approx. 2" thick, rind removed
¼ cup goats cheese
1-2 tablespoon shredded mint
2 tbs extra virgin olive oil
1 tbs red wine vinegar
Instructions:
Combine the mince, onion, chilli, spices, egg, quinoa flour, molasses and salt and pepper in a large bowl. Using wet hands form 6 burger patties approx 1inch thick. Set aside.
Pre heat your oven to 180 deg C and heat a grill pan on a medium/high heat. Place the burgers on the pan and cook for 2 mins each side. Transfer to hot oven and cook for a further 5 mins.
Whilst the burgers are cooking, toss the olive oil, sumac and lemon juice with savoy cabbage and toast your buns. Prepare the sauce by combing the mayonnaise and hariissa.
Allow the burgers to rest for a few minutes and then construct the burgers. Place a little shredded cabbage on the bottom bun, followed by the burger, dollop a little harissa mayo and finish off with the top bun.
To cook the grilled watermelon salad:
Spray a little olive oil in a grill pan and heat on a high heat.
Add the watermelon slices and grill on each side for 2 mins. Remove and top with goats cheese, mint, olive oil and vinegar.