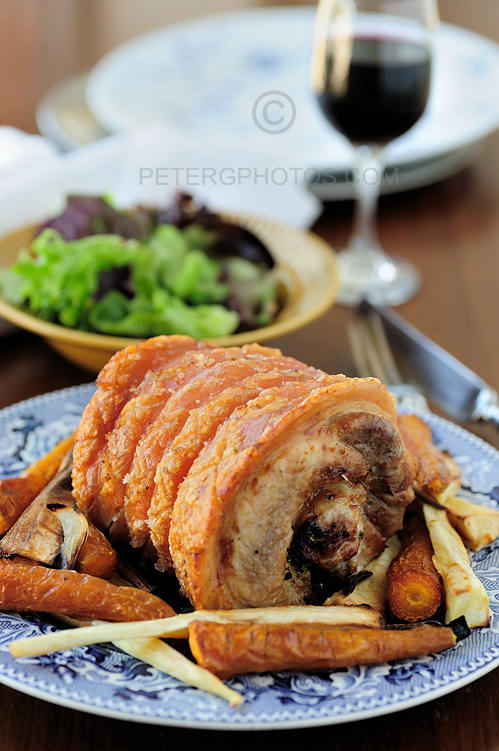 After last week's go at poaching eggs, I got thinking that there are certain dishes that never really go out of style. 
They remain classics.  And it's often these "classics" that can give me the most headaches! 
So I decided I would go on a mission to "blog the classics". 
I'll be featuring recipes every now and then that challenge me to get back to my cooking roots. 
First up on the block is roast pork. 
While it's quite simple to cook up a slab of meat, roast pork is one that has caused me many issues in the kitchen. 
And it mainly has to do with the crackling.  I can never get it "crackly" enough. 
My first attempt a few years ago, ended with some of my dinner party guests to kindly spit out their roast into a napkin and smile kindly! 
I kid you not.  Lesson learned.  Practice before you attempt something that may seem "easy".
Whilst scanning the aisles of the supermarket a few weeks ago, I picked up a whole bunch of winter root vegetables. 
Namely baby dutch carrots and parsnips. 
I then noticed they had organic pork for sale at quite a decent price.  I picked up a whole loin of pork that weighed approximately 1.5 kilograms and it had a wonderful layer of fat.  My mind went into overdrive, and visions of beautiful moist roast pork came into view with a lovely layer of crackling.  One that people would "oooh" and "aaah" over once it arrived at the dinner table.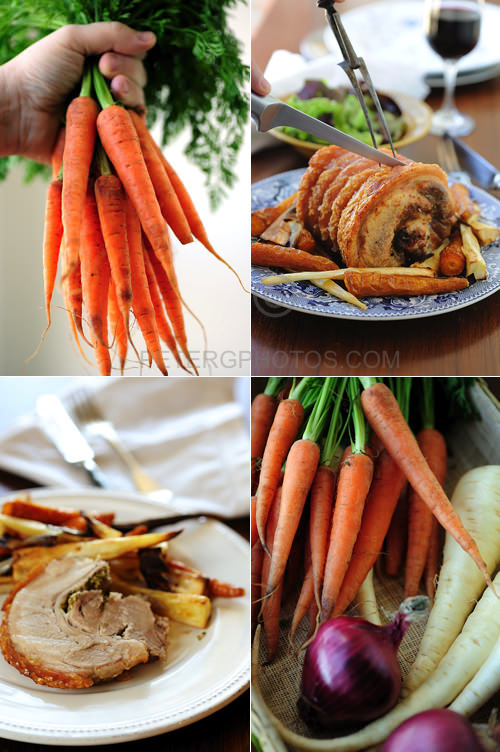 This time I was armed with information from "The Better basics" cooking magazine.  It's produced by the "Better Homes and Gardens" crew and the recipes are provided by their resident chef "Fast Ed".  There's a lot of classics in this magazine and great tips and advice.  I zoomed straight into the roast pork and proceeded to follow Ed's advice on producing the perfect roast pork with beautiful crackling.  His main tip was to pour boiling water over the skin of the pork and then ensure it is completely dry and every inch of moisture removed.  He even goes on to say that you should use a hairdryer to remove any last traces of liquid!  Having not owned a hairdryer for many years I used some paper towels to remove all the last bits of moisture.  And then the secret lies in rubbing it with oil and lots of  sea salt flakes ensuring the salt is rubbed into the scored skin.  Overall I was pleased with the result but I still think that the skin could have been a bit more crackly in certain places! I think my "scoring" technique was not very good.   I dare say I will get this right and I will keep on practicing it!  The pork was moist and tender though.  I filled the insides with a combination of fresh rosemary, parsley, lemon zest, garlic,  salt and pepper.
RECIPE FOR ROAST PORK
(Adapted from the "Better Basics" cooking magazine-with "Fast Ed"
1.5-2 kg boneless pork loin
4 litres of boiling water
a small bunch of rosemary and parsley finely chopped
the zest of one lemon
2 cloves of finely chopped garlic
¼ cup of vegetable oil
sea salt flakes
Vegetables to serve-potatoes, parsnips, carrots
Preheat the oven to 130 deg C. Lay the pork loin skin side up and flat on a chopping board and proceed to score the skin in a crisscross pattern about 1 cm apart.
Proceed to pour the boiling water over the scored skin and wipe down with some kitchen paper towels.
Turn the pork over and rub it with your desired herb mixture. Roll it up tightly and secure it with butcher's twine.
At this point use a hairdryer to remove any excess moisture. Rub the whole loin generously with the vegetable oil and then season with sea salt flakes, ensuring every crevice of scored fat gets a look in!
Cook the loin over a wire rack on a shallow oven tray for 1 ½ hours
Remove the pork from the oven, increase the oven temp to 230 deg C and then bake the pork for a further 30-40 mins.
Once cooked, remove from the oven and cover in foil loosely and allow it to rest for a good 5-10 mins. Remove the twine and carve away!