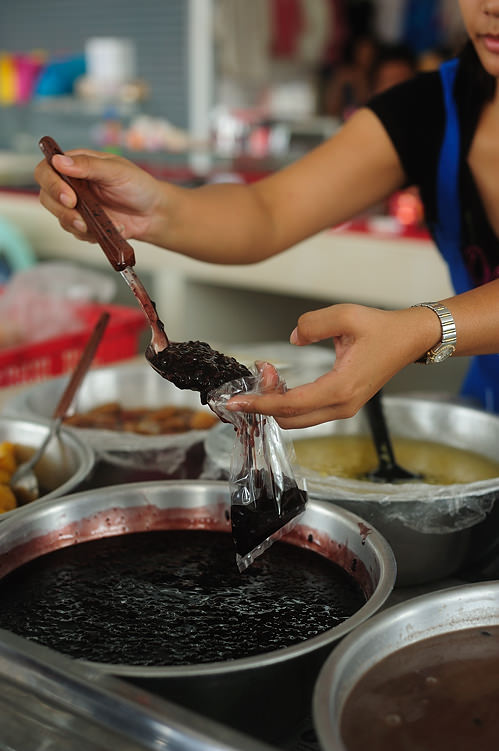 Attending Thai cooking classes was probably one of the major highlights of my recent holiday. 
As much as I am familiar with Thai food, there is nothing like getting to the grass roots of it all and gaining a better understanding of how this cuisine works. 
The wonderful people at the Sareeraya resort hold cooking classes in the hotel's main dining and kitchen area.
Three of us decided to have a go and it was definitely a learning curve and a lot of fun! 
Led by the hotel's head chef Phillipe, and his trusted team we were set for a busy day ahead of us.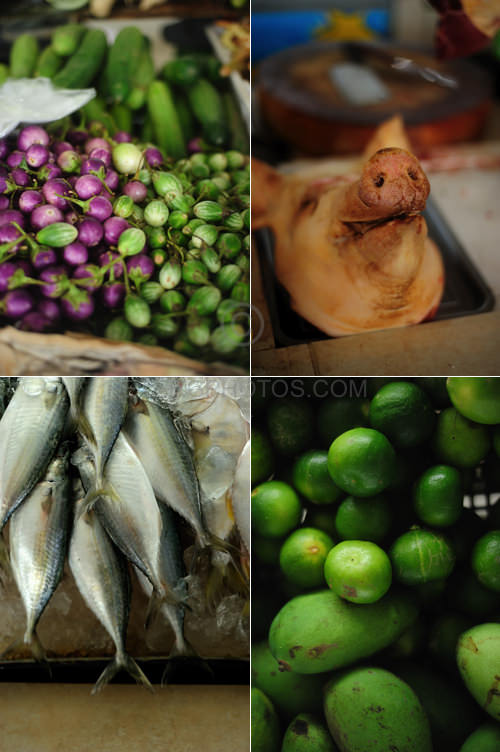 We started off by taking a trip to the local Koh Samui fresh food markets. 
The whole idea of doing Thai cooking classes was to get a better understanding of how the locals shop (and eat) and to see a lot of the produce provided by the island.
It's also a great insight into Thai cuisine.
We saw a whole array of seafood including some live catfish, and various meats and poultry. 
Let's just say the Thais take a "head to tail" approach to eating and there was not a single element of an animal wasted. 
The fruits, vegetables and spices were my favourites. 
Green papayas, fragrant limes and powerfully, pungent mangoes were the stand outs. 
We stocked up on the ingredients for the five dishes we were to produce and we purchased some black sticky rice to enjoy with mangoes and coconut milk as dessert.
A quick trip back to the hotel and we were ready to start our culinary adventure. 
We chose five dishes to prepare. 
Green papaya salad
Tom Ka Gai (a chicken and coconut broth)
Fish cakes
Samui style duck curry
Chicken and cashew nut stir fry. 
First off Phillipe talked us through the produce and we were invited to smell and feel a little of everything. 
I've said it many times before but I absolutely love Thai food. 
It manages to marry all the elements of the food spectrum and bring it together so harmoniously. 
In it's basic form (and I mean this lightly as there is nothing basic when it comes to cooking it!) you could easily break it down to four things. 
Spicy - comes through the use of the many chillies
Sweet - derived from the use of palm sugar
Salty - the fish sauce (my favourite!!!!)
Sour - the use of limes.
Let's not forget everything else either! 
Coconut milk, cream, water and oil.  Snake beans (long green beans), eschallots (both fresh and fried), garlic, garlic chives, mushrooms, peppers, cucumber and cashews! 
Phew! 
I could go on but you get the idea! 
The sous chef (stupid me forgot his name!) prepared the dish and we copied him exactly. 
The ONLY variation we made was the amount of chillies we added to a dish. 
When a Thai person ask you how HOT you want a dish you have to really be careful how you answer, as their version of HOT is definitely very different to my subdued Western palate!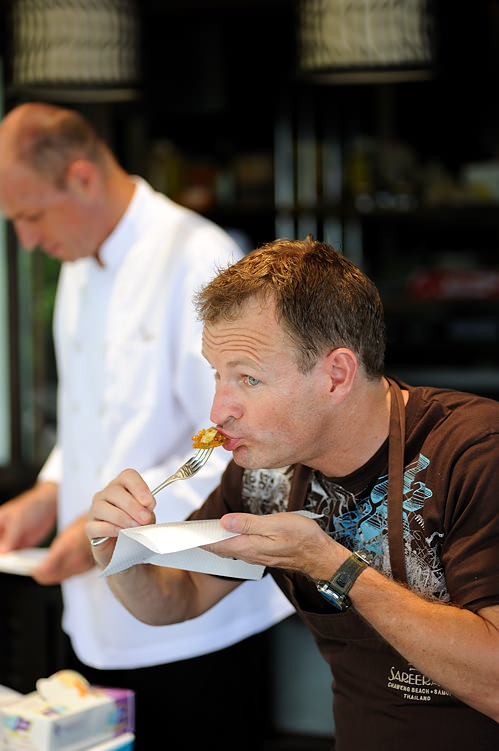 After each dish was finished we then tasted ours and compared it to the chef's. 
Everyone did a great job and again it was fun watching everyone connect through food. 
My two cooking companions and myself virtually "took over" the restaurant and kitchen! 
We were quite animated through the whole process and we had certainly gained the attention of the other guests! 
I had set up my camera and tripod and turned the cooking area into a mini food styling and photography shoot.  Beware of food bloggers!
It was funny hearing Phillipe, the head chef, call me "chef".  I have this habit of being very serious in the kitchen and having a prep towel over my shoulder as I cook!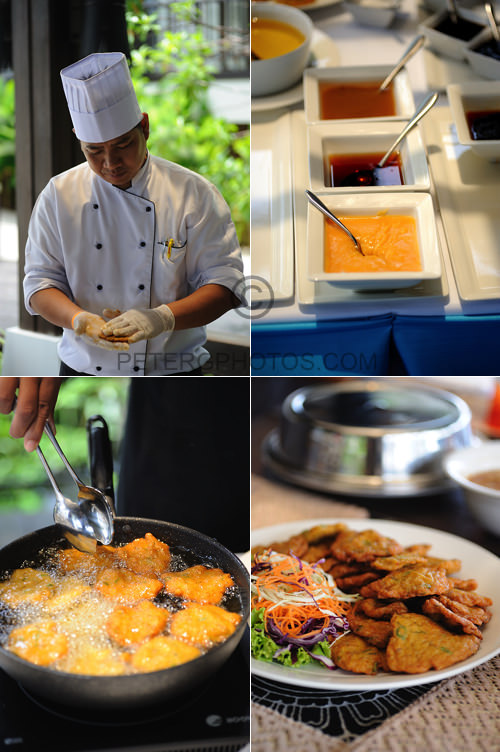 After a good three hours of cooking we sat down to enjoy our newly created delights! 
The fish cakes were the favourite on the day. 
I think we made forty five in total and we couldn't stop gobbling them! 
The Som Tum (green papaya salad) was probably the easiest to prepare and it was so fresh! 
The duck curry was a little too sweet for my liking as it included palm sugar, fresh pineapple pieces and grapes. 
The Tom Ka Gai (chicken and coconut soup) was the dish I prepared and I was quite surprised at how subtle I had made it. 
Nonetheless it was consumed with everything else, accompanied by steamed jasmine rice and cold beers! 
I think I'm the happiest when I cook and can share the efforts with friends. 
For me it was truly a memorable day!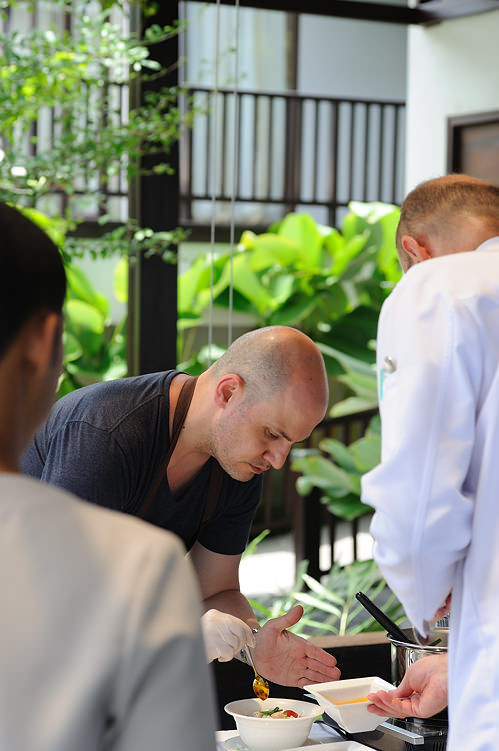 Today I've given you a snippet of what we achieved in our Thai cooking classes. 
I also have a few more posts covering my holiday, namely the second place we stayed at and I'll be highlighting that at some point next week with a whole lot more pictures!