This Sunday coming, Greeks all over the world will be celebrating Easter. Its a very big event in Greek culture with many traditions and religious rituals. There's Lent with the fasting, the many cakes, breads, biscuits and of course the dyed eggs. Its a wonderful time with Easter Sunday being the "big day". Everyone feasts and eats so much food!!!
The week leading up to Easter Sunday is termed as "Holy Week" with church services on every night. Its a busy week with the majority of the food preparation being done during this time. I remember when I was growing up the house being so frantic. "Koulouria" (the traditional Greek Easter cookies), "kourabiethes" (icing sugar covered almond crescent biscuits) and "tsourekia" (Greek Easter Brioche bread) were staples for us during the lead up to Easter. And the eggs. And the offal soup a.k.a "magerista"...and the lamb ready for the spit....you get the idea! There is so much food surrounding you, it made fasting during this time all that much harder!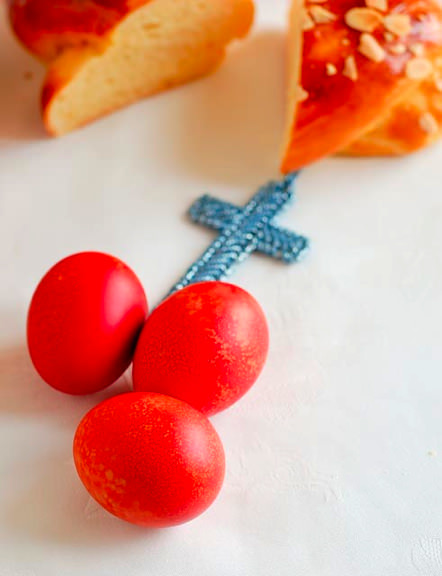 This year, I set out for the first time to make my own "tsourekia" and dye the eggs red. Well lo and behold I got mixed results! The first batch of tsourekia turned out like bricks! On closer inspection I realised I had been using an old packet of yeast! So of course they didn't rise. Oh well you live and learn! Eventually I made them and they turned out gloriously plump and golden. My eggs turned out ok. A few blemishes here and there but otherwise fine. They're probably not the traditional version but they certainly tasted as I remembered. I love eating tsoureki in the mornings, toasted with some marmalade on top. I'm actually going to use the recipe for this and make something else in the near future. Tsoureki are traditionally made with a 3 plait twist. Each plait symbolising an element of the Holy Trinity. They are also baked with an red egg in them as a symbol for the blood that Christ spilt dying on the cross. They are similar to brioche and can store for a few days (if they last that long).
Enjoy!
ΚΑΛΟ ΠΑΣΧΑ ---HAPPY EASTER