With the arrival of the cooler weather this easy seafood stew gives me the chance to indulge in a few more hearty recipes that will warm up the insides.
This winter, instead of focusing on the usual stews made with beef, I'm going to try my hand at using some seafood.
This is a very big step for me.
I've always admitted to being a bit of a "wimp" when it comes to preparing seafood recipes.  I'm learning it all comes down to education and trial and error.
I'm also very lucky to have a fishmonger up the road who answers all my questions and does a lot of the prep work for me.  When I was planning this easy seafood stew all these thoughts ran through my head about cleaning mussels and opening fresh scallops!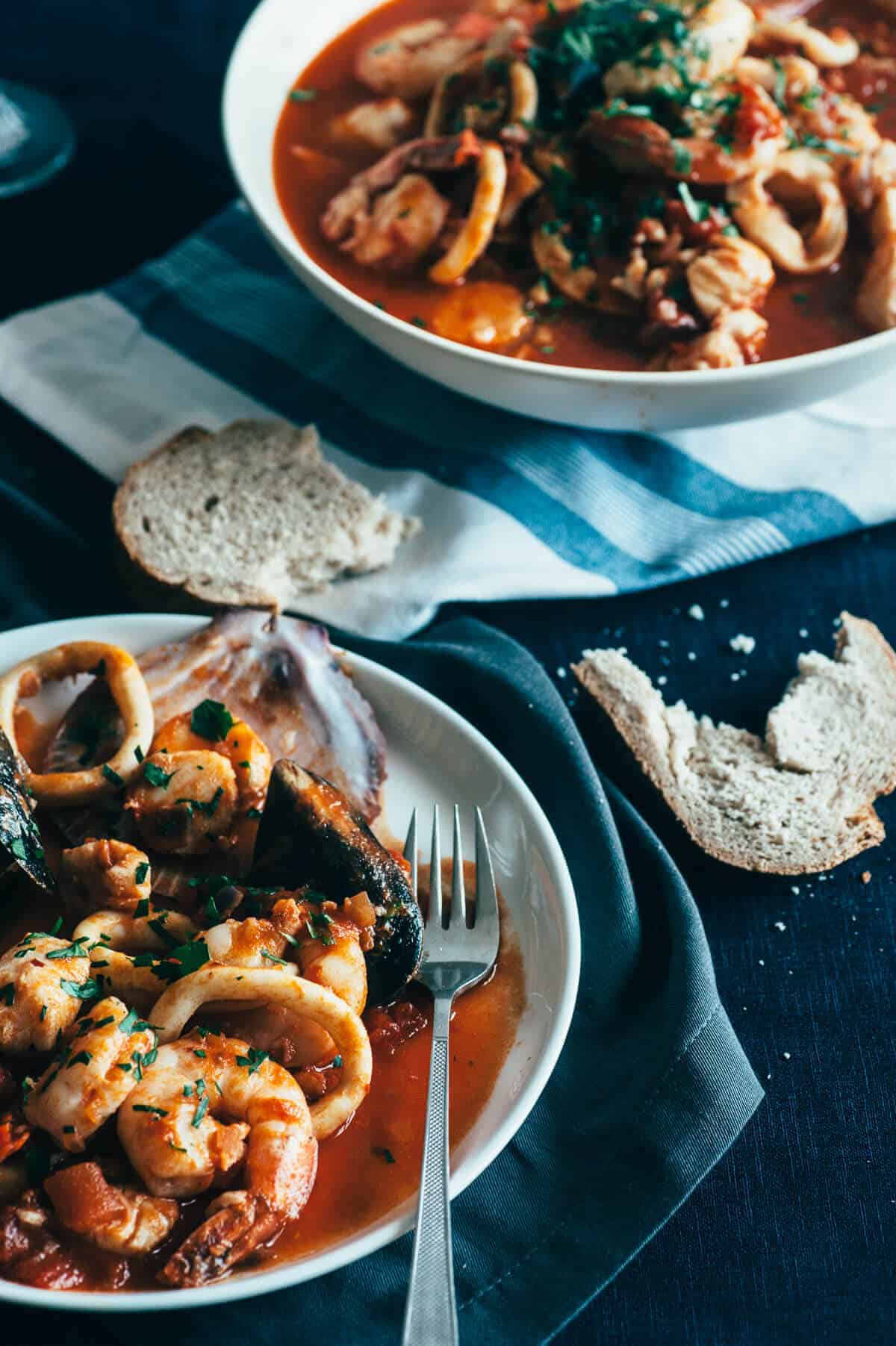 No need to worry!  It was all done for me!
This seafood stew doesn't pretend to be anything complicated. It's certainly not a Bouillabaisse or even a kakavia.
It's simple, quick and delicious!  It took me all of 45 minutes from start to finish.
It utilises canned tomatoes, a little white wine, some saffron and a little heat from some fresh chillies. The only changes I made to the recipe was to saute some fennel along with the onion and add a splash of ouzo.   Being the "aniseed addict" that I am I loved the flavour these two extra elements brought to the dish.  If you find it doesn't suit your palate give it a miss.
And don't forget the bread when serving this seafood stew!  You're going to need it when mopping up that beautiful sauce!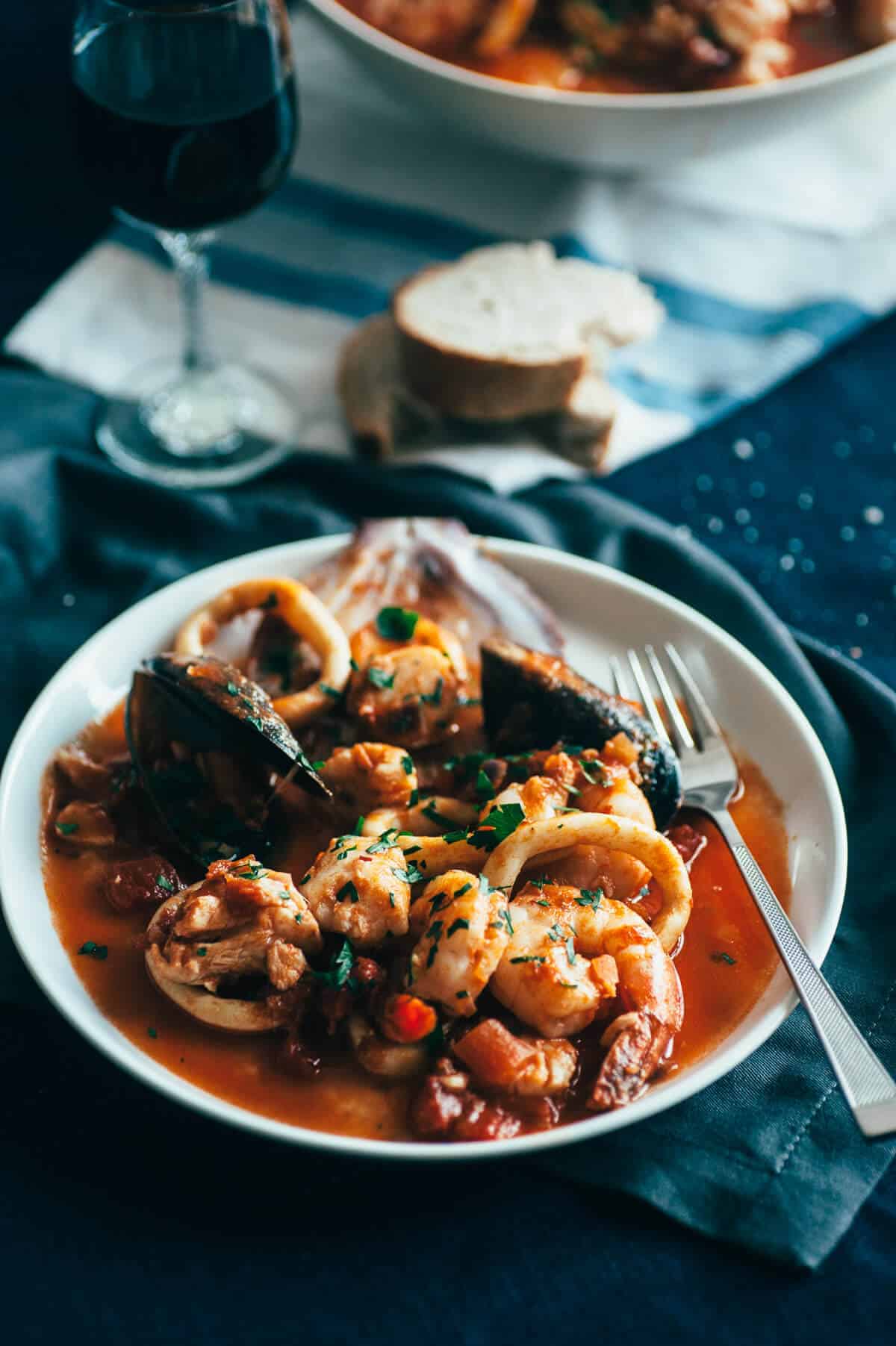 Easy Seafood Stew Recipe
An easy seafood stew prepared with fresh seafood and a touch of ouzo.
Ingredients
2 tablespoons of olive oil
1 onion thinly sliced
1 small fennel bulb thinly sliced
3 cloves of minced garlic
1 small red chili finely diced
⅔ cup of dry white wine
a pinch of saffron
a good "splash" of ouzo
1 can of crushed tomatoes
2 tablespoons of tomato paste
400 ml of fish stock (fresh is best but if buying a prepackaged one check to see how many additives there are!)
8 fresh cleaned mussels
8 fresh scallops
8-10 raw green prawns with tails kept intact
8 calamari rings
400 grams of firm white fish fillets-I used ling-cut into chunks
a handful of chopped flat leaf parsley to garnish
Instructions
Saute the onion, fennel and garlic for about five minutes until translucent and aromatic
Add the chili and saute for a few more minutes
Add the wine, saffron and ouzo and allow it to cook off for about 2 minutes
Add the crushed tomatoes, tomato paste and fish stock and bring to the boil. Lower the heat to medium and allow the mixture to simmer and thicken-for approx. 30 mins
Add the mussels, scallops and prawns and cook for 5 minutes
Add the calamari rings and chunks of fish and cook for a further 5-7 mins
Remove from the heat and garnish with lots of fresh parsley and serve with bread.
Notes
Serves 4 as a starter or 2 as a main.