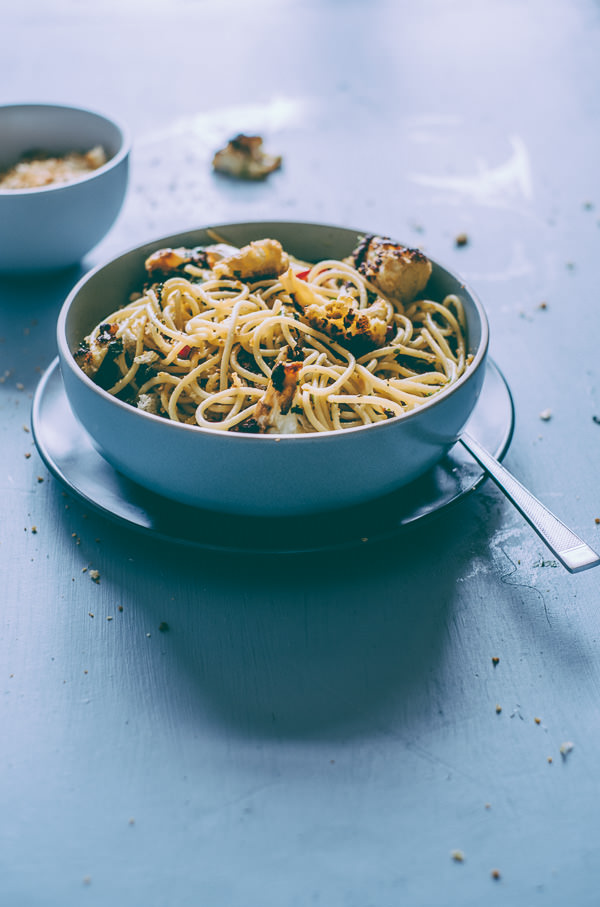 This is my "go-to" dish when cooking spaghetti these days.
Whilst a good beef ragu will always be part of my recipe collection the weather isn't just there yet. We have a little time to go before the slow and simmering sauces of winter start making an appearance.
What I adore about this dish is how quickly it all comes together.
And dare I say it has a "rustic" quality to it too.
I know the Sicilians do a version of cauliflower with pasta that includes anchovies and currants. I tried it years ago at a friend's place and was quite surprised how all the flavours worked cohesively.
I've also seen a version where ground almonds are added as a garnish. This version today uses home made toasted breadcrumbs for that final, rustic "oomph"!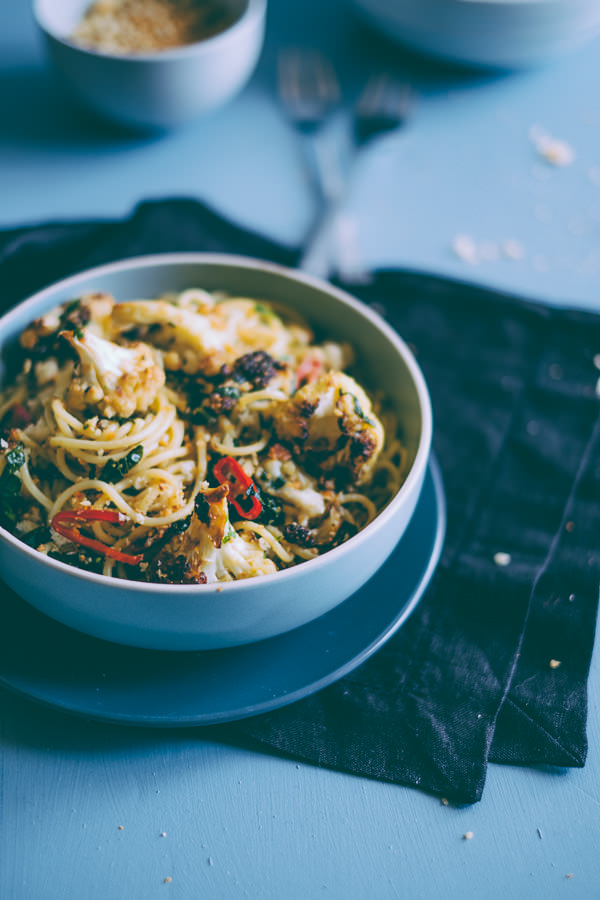 Like I explained earlier, spaghetti with cauliflower is super easy. And you don't have to follow an exact formula.
Don't like chillies? Fine. Don't add them. Want to add some Greek feta to the dish? Go right ahead! This dish is more flexible than Jamie Lee Curtis was in that 80's  movie "Perfect"!  (God I'm showing my age with that one!).
I sometimes steam the cauliflower and then add to a hot pan to let it caramelise, however today I chose to roast it first. There's also a bit of curly kale that I had leftover, to up the green "goodness".  A little garlic, some chilli and extra virgin olive oil make this dish just about perfect.
I'd love to know if you've ever made this dish and what variations you make.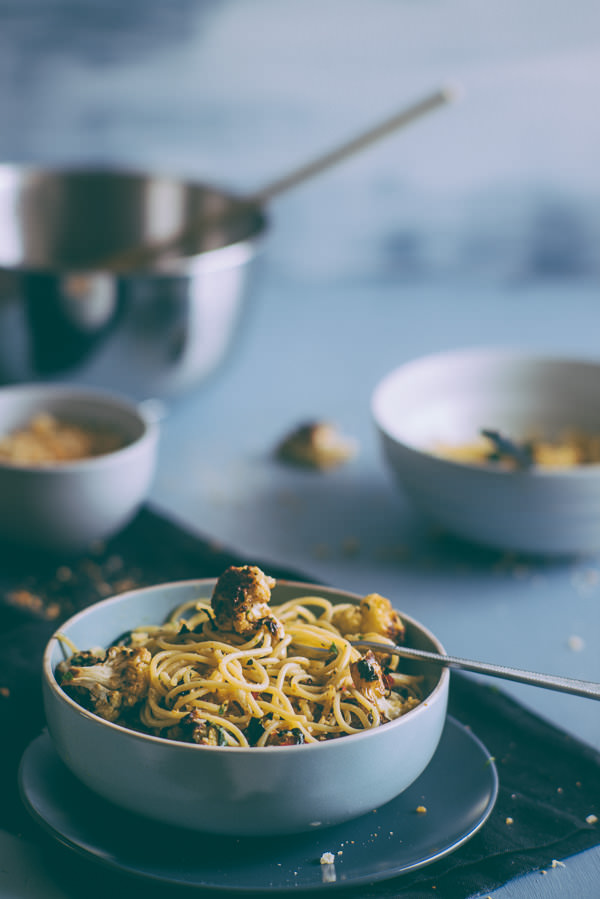 Spaghetti with Cauliflower Recipe
Serves: 4
A simple dish of roasted cauliflower tossed with spaghetti.
Ingredients:
1/2 a head of cauliflower, cut into florets
2 tbsp olive oil
250 grams spaghetti
2-3 tbsp olive oil
2 cups kale, finely shredded
1 whole chilli, finely sliced
2 cloves garlic, minced
toasted breadcrumbs for garnish
Instructions:
Preheat your oven to 180 deg C and toss the florets in the olive oil. Spread them out on a baking dish and cook for 30 mins or until caramelised.
In the last 10 minutes fo the cauliflower roasting, cook the spaghetti till al dente. Set aside and reserve 1/2 cup of the pasta water.
In the same pan heat the olive oil and add the kale, chilli and garlic. Saute until tender (approx 2-3 mins). Add the spaghetti and cauliflower and toss until well combined. (You may wish to add a few tbsp of the pasta water if it gets a little dry)
Serve immediately and garnish with toasted breadcrumbs