This fig and walnut bread is aromatic and full of flavour. Who needs "raisin toast'?
Who remembers raisin toast?
During my high school years I ate it religiously at every morning recess.
Slathered in butter (or margarine more like it!) it provided the necessary sustenance to combat the long school day ahead.
Today I'm doing an "advanced" version of raisin bread.
Fig and walnut bread.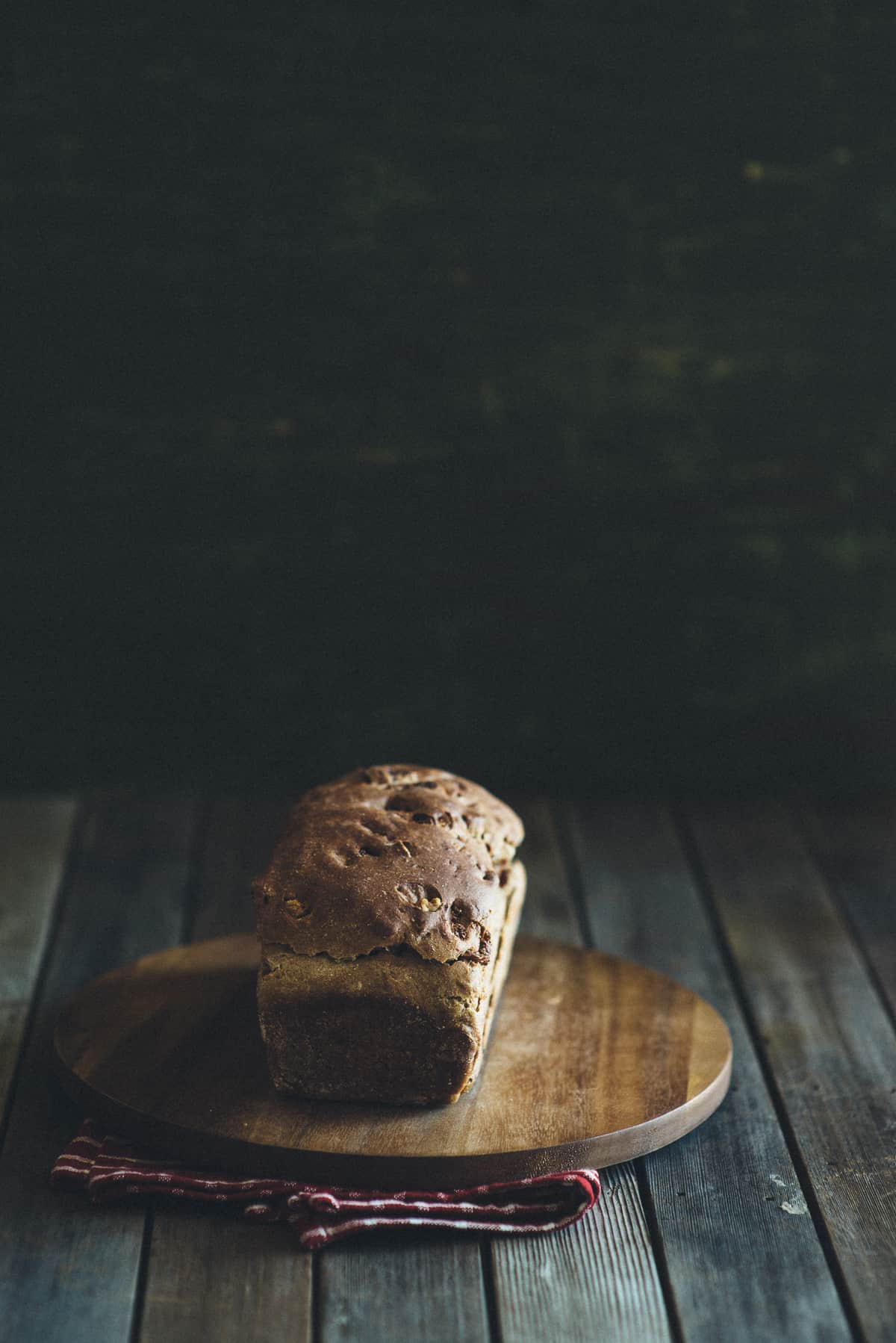 I was in a "bread mood" recently and wanted something special to indulge for a weekend brunch.
I love watching the process of flour, water and yeast transform into a living thing. And as much as I would like to say that waiting for dough to rise is "therapeutic" and "great for the soul" the reality is I'm a lot more impatient!
But it was all worth it in the end.
I experimented with a few different versions of this bread substituting dried cranberries and pecans and even using maple syrup to sweeten the dough.
There's a nice hit of cinnamon along with some ground cloves to bring it all together and I've used a combination of white and wholemeal spelt flours.
It's a little dense and even though I didn't photograph it, it toasts beautifully.
If you have a few spare hours over the weekend I encourage you to have a go making this gorgeous fig and walnut bread.
Enjoy the weekend!
Cheers everyone!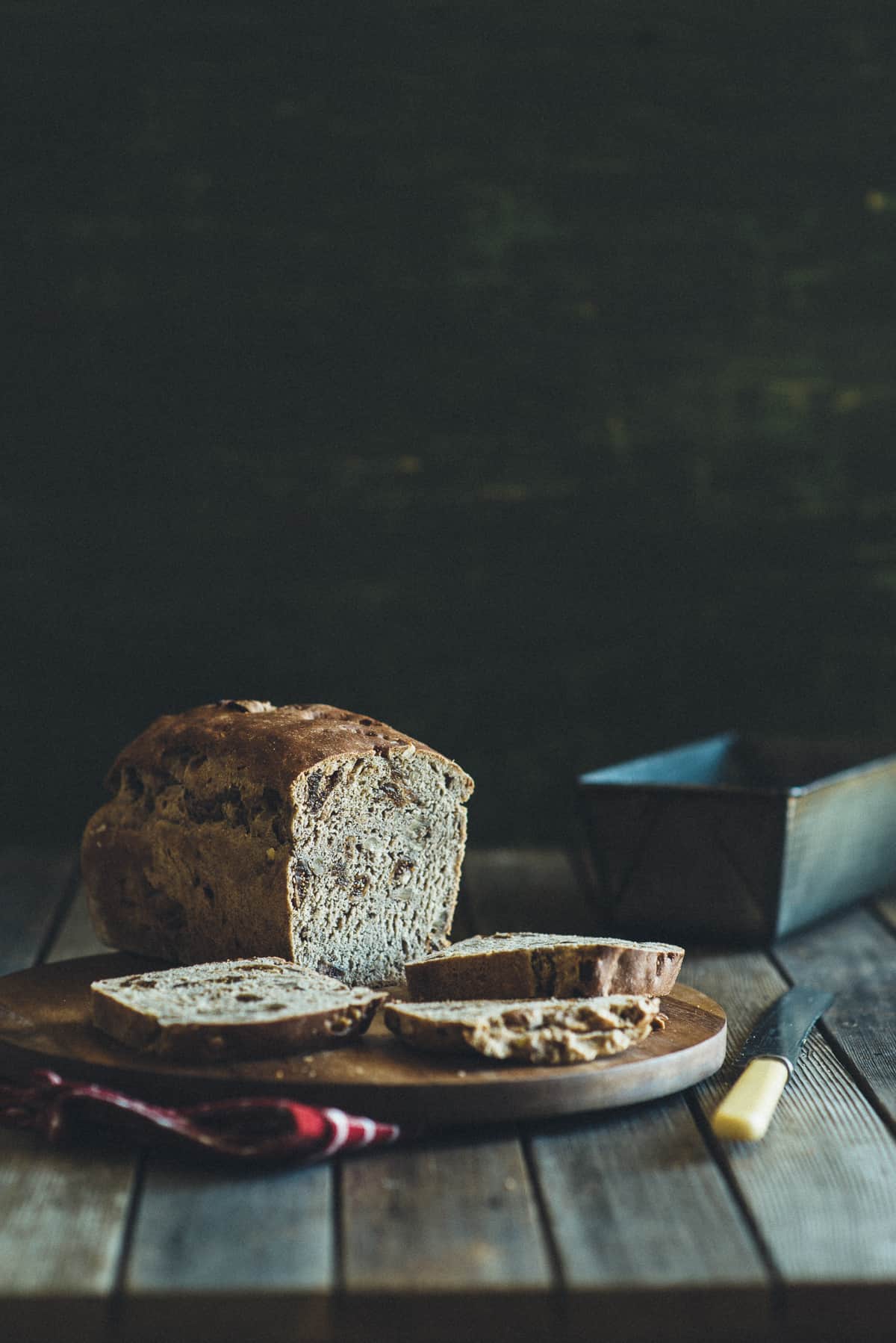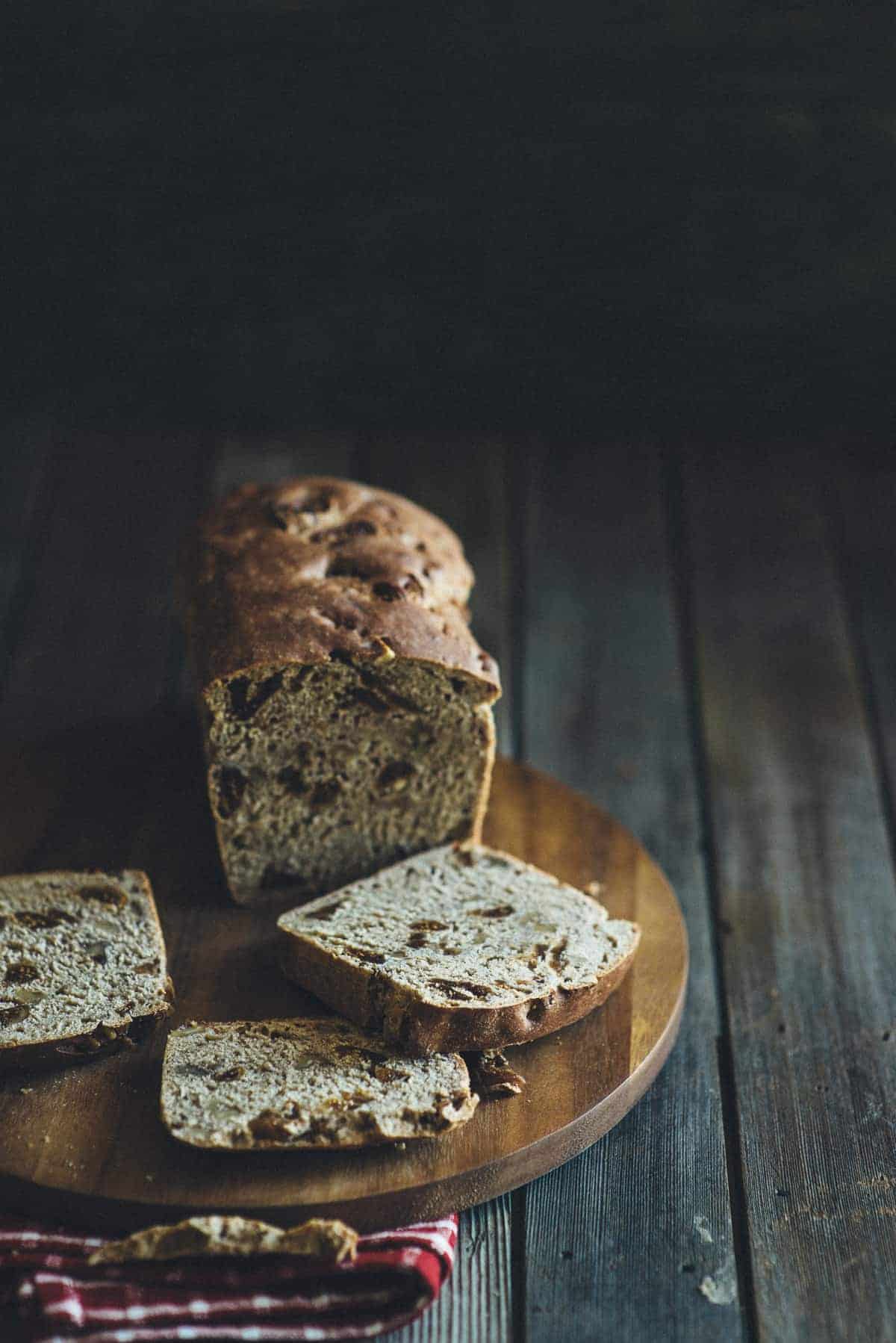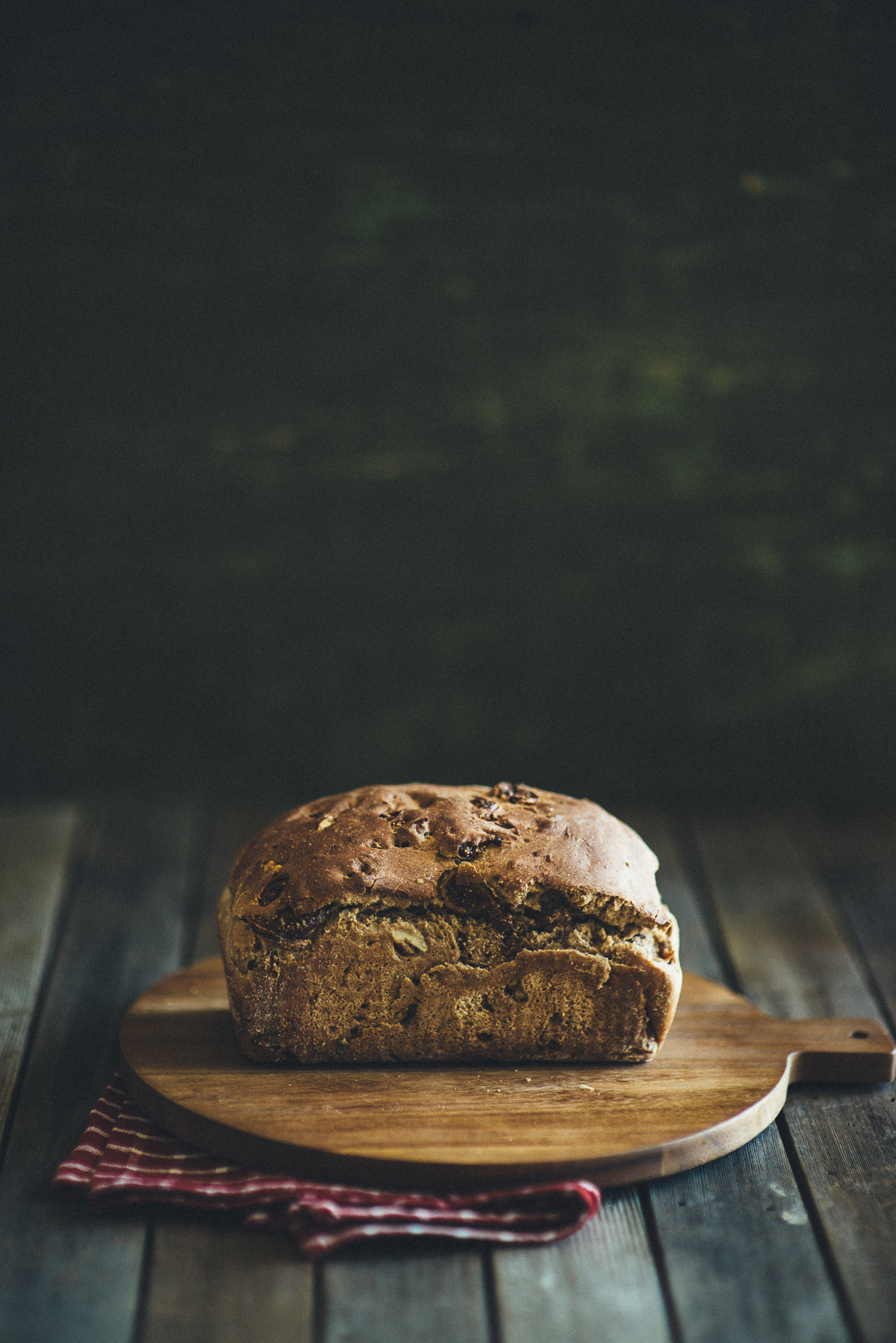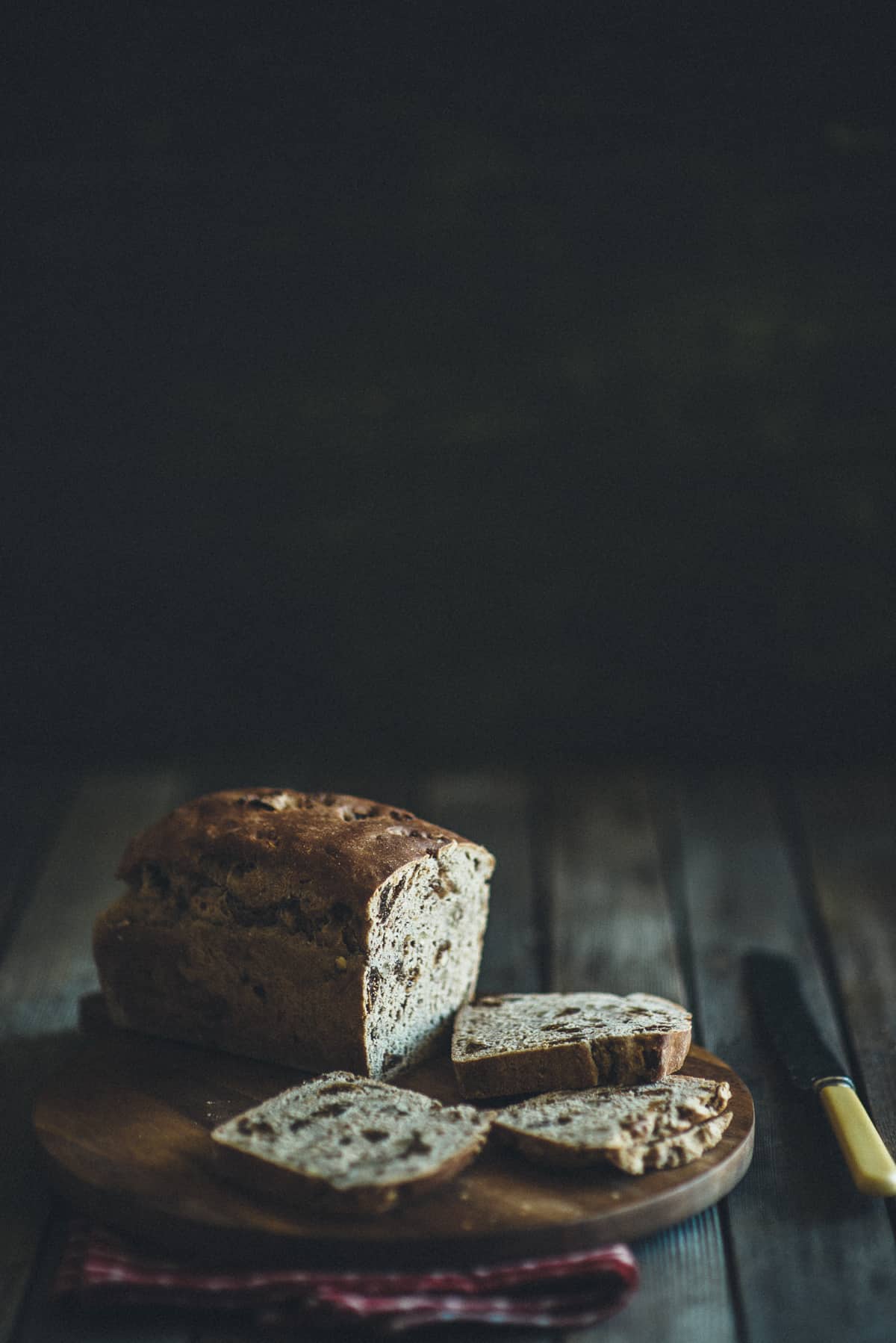 FIG AND WALNUT BREAD RECIPE
Adapted from here
Ingredients:
300ml warm water
1 x 7g sachet dry yeast
60ml petimezi (Greek grape molasses)
350 grams white spelt flour
200 grams wholemeal spelt flour
1 1/2 tsp ground cinnamon
pinch ground cloves
pinch of sea salt
150 grams dried figs, roughly chopped
100 grams walnuts, roughly chopped
Instructions:
Preheat your oven to 200 deg C and grease an 8.5″ x 5″ loaf tin and set aside.
Combine the warm water with the yeast and molasses and set aside for 10 mins until the mixture is bubbling and frothing.
In a large bowl combine the spelt flours, spices and salt. Make a well in the centre and add the the frothy yeast mixture. Using your hands, mix until you have a sticky, yet pliable dough. (Use a little extra flour if necessary to bring it together). Place the dough back in the bowl, cover with plastic wrap and a kitchen towel and allow to rise for approx. 1 hour.
Once doubled in size, add the figs and walnuts and proceed to knead the dough on a well floured surface for 5-6 minutes. Place the dough in the baking tin and cook in the oven for 10 mins. Reduce the temperature to 180 deg C and cook for a further 30-35 mins until golden. (Tapping the base should also make a hollow sound).
Allow the bread to cool completely on a wire rack before cutting and toasting.
Notes
You can substitute honey or maple syrup for the molasses.