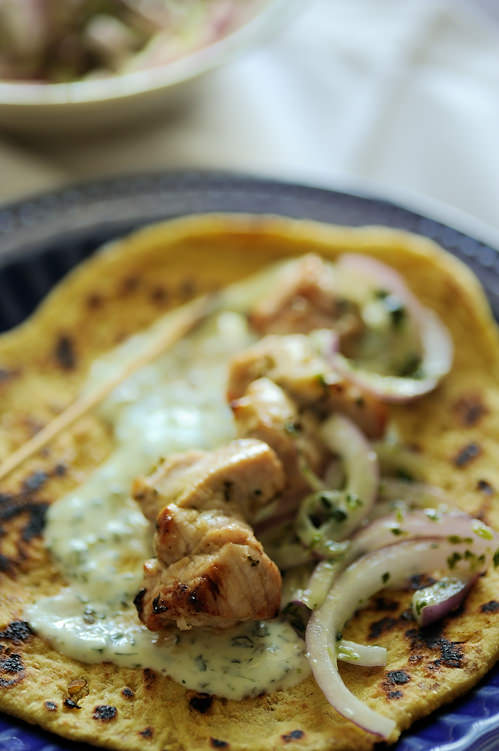 Pork is the traditional meat used to make souvlaki, that you find in Greece.
Personally, I prefer lamb but this is just as good.
It's all good!
Back in January, when I received my "goodie bag" from Australian Pork I quickly put it to use by pan frying one of the pork loins and serving it with stuffed peppers. With the other pork loin I made souvlaki and served it up with a minted yoghurt, an onion and parsley salad and a "pita" or flatbread made with chickpeas.
I really want to focus on the chickpea flatbread. The idea for this came from an old Jamie Oliver cooking show I was watching on t.v. one afternoon. The "trick"-if you want to call it that-was placing half a can of chickpeas into the flour mixture along with a number of spices. The chickpeas were literally squished into the dough as he was kneading it! It looked like a lot of fun and the carb addict in me became very curious. I had to try this! The result was incredible! I'm telling you, souvlaki "pites" will never be the same again. The only thing I did different was to cook my flatbreads in a hot pan as opposed to cooking them in a hot oven. These provided some "Middle Eastern" inspiration, so the rest of the meal followed that path.
The souvlaki were made using a pork tenderloin which was quite a lean cut. I knew this could easily become "cardboard", so I cut the pork into small, even pieces and made sure they were cooked quickly in a hot "chargrill" pan. The meat was marinated for 2 hours in a combination of chopped flat leaf parsley, a little olive oil, lemon juice and salt and pepper. I kept it simple because I knew there were going to be a lot of flavours competing here. The minted yoghurt was just that. Greek yoghurt with chopped mint and a good squeeze of lemon juice and a little salt. I also added a small salad of sliced red onions with parsley. Overall, this combination was to die for and one I plan on experimenting with again.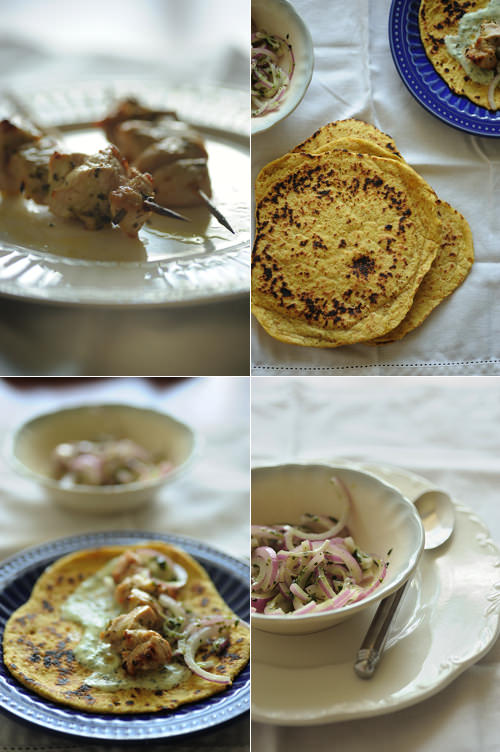 RECIPE FOR CHICKPEA FLATBREADS
Yields about 6-8 flatbreads
(N.B. These are all approximates. Feel free to adjust the flour until you achieve an elastic dough. Also, feel free to add any spice of your choice)
1 cup of plain (all purpose) flour
1 cup of plain wholemeal flour
½ a can of chickpeas (garbanzos) along with some of the liquid from the can
½ - ¾ a cup of lukewarm water
¼ cup of olive oil
1 teaspoon of cumin
1 teaspoon of turmeric
1 teaspoon of cayenne pepper
½ a teaspoon of salt
Combine the 2 flours, the spices and salt in a large bowl.
Add the chickpeas and some of their juice from the can, the olive oil along with some of the luke warm water.
Proceed to mix everything together until a dough begins to form. Make sure you incorporate the chickpeas well into the dough.
*If you find you need to add more water or flour do so until you achieve a smooth pliable dough-knead for approximately 5 mins*
Place the dough in bowl, cover and let it rest for half an hour
When you are ready to make the flatbreads, take pieces of the dough and form into balls (a little bigger than the size of a golfball)
Roll out the balls into a circular shape, making them about ½" thick
Cook the on a hot flat grill or pan for about 10 seconds. Once you see the flatbreads begin to puff up turn them over and cook the other side for the same time.
Place them in a kitchen towel lined basket as you cook them to keep them warm