Mango, coconut and lime popsicles are just perfect.  I dare you to stop at just one.
It had to be done!  I don't think a summer has gone by that I haven't included an ice cream recipe of some kind.  I can now add this mango, coconut and lime ice cream recipe to the repetoire as well!
You know when you get that craving for something that won't go away?  That's what happened here.  I wanted mangoes and I wanted ice cream.  A day later I had these beautiful "good for you" popsicles in my sweet little hands!  I must admit to slightly cheating though…
I borrowed the idea for the flavour combination from my easy home made ice cream recipe post I did a few summers ago.  There's something so divine and perfect about combining fresh mango, lime and coconut cream.
Stealing from one big technology company's catch phrase – "It just works!".
You could easily swap out the coconut cream for Greek yoghurt too, if you don't fancy the tropical flavours.  Overall, these were a winner!  Now all we need is for the weather to warm up again!
All the best and enjoy your weekend.  Hopefully you'll be devouring some of these mango, coconut and lime popsicles.
Cheers!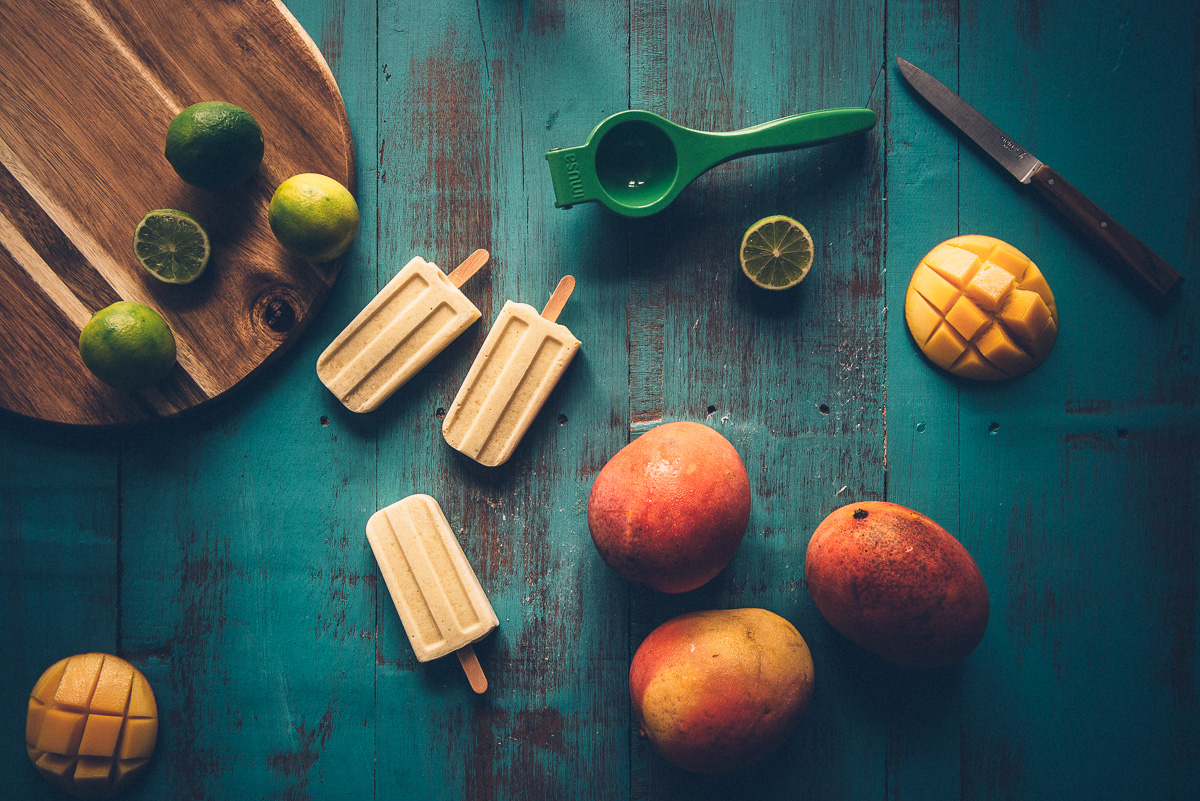 Mango Coconut and Lime Popsicles
Mango, coconut and lime are the perfect combination in this easy to make ice cream recipe.
Ingredients
the flesh of 3 large mangoes
275ml coconut cream
2 tbsp honey
juice and zest of 1 lime
1 tsp good quality vanilla extract or paste
Instructions
Combine all the ingredients n a blender or food processor and blend until smooth and free of any lumps.
Pour the mixture into the ice pop moulds and place in the freezer for 2 hours.
When the mixture is semi set pierce an ice cream stick through the centre of each ice pop.
Place back in the freezer and allow them to set overnight before serving.
To serve them, run the moulds under warm water for 10 seconds to set them loose and serve immediately.
Notes
This recipe made 10 ice pops.

Each mould holds 100ml so the total quantity should equal 1 litre.

If you want to use the same moulds to make ice pops at home try this set from Amazon.