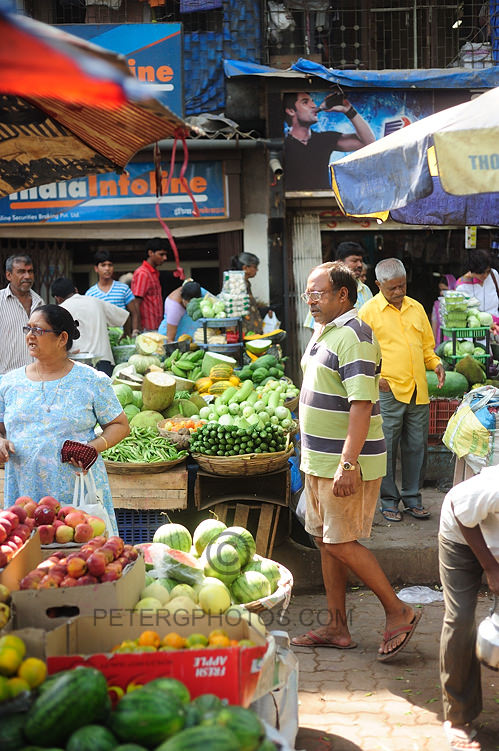 I was very fortunate last week to be able to be in Mumbai, India for two whole days.  It had been over three years since my last visit here and this time I was armed with my camera ready to pounce on the city.  I tried to make the most of my short visit and I hope you enjoy some of the shots I captured.  After arriving and freshening up I made way outside and the first thing I stumbled upon was a street market.  Fruit, vegetables and all sorts of goods were on sale today with everyone haggling for the best price.  The thing that stands out the most were the colours of the produce and the warm generosity of the people I met.  In fact, everywhere I went,  people were more than happy to pose for this "folically challenged" photographer!  I was greeted with kindness and smiles and jokes about the Australian Cricket Team!
I ate to my heart's content on my two days, indulging in a (mainly) vegetarian menu.  I had dosas, bhajis, roti, naan, dhal, parathas and biryanis. All washed down with cooling mango lassis in the daytime and very cold Kingfisher beer in the evening.  On my second night there I had hoped to get some sunset shots of Juhu Beach but was caught in a traffic jam that was considered to be quite "normal" for Mumbai!  Oh well!  Go with the flow I say.  A group of us dined at the Seaview Hotel overlooking the water and then we made our way to an outdoor night market where the most incredible array of foods were being prepared.  It was buzzing with so many people all seeking relief from the stiffling heat.  A very social spot actually...
Overall, Mumbai was an unforgettable experience and definitely an assault on the senses (in a good way).   India has truly touched my heart and I hope to get back there soon to stay a little longer and enjoy it more.  Two days just wasn't enough.