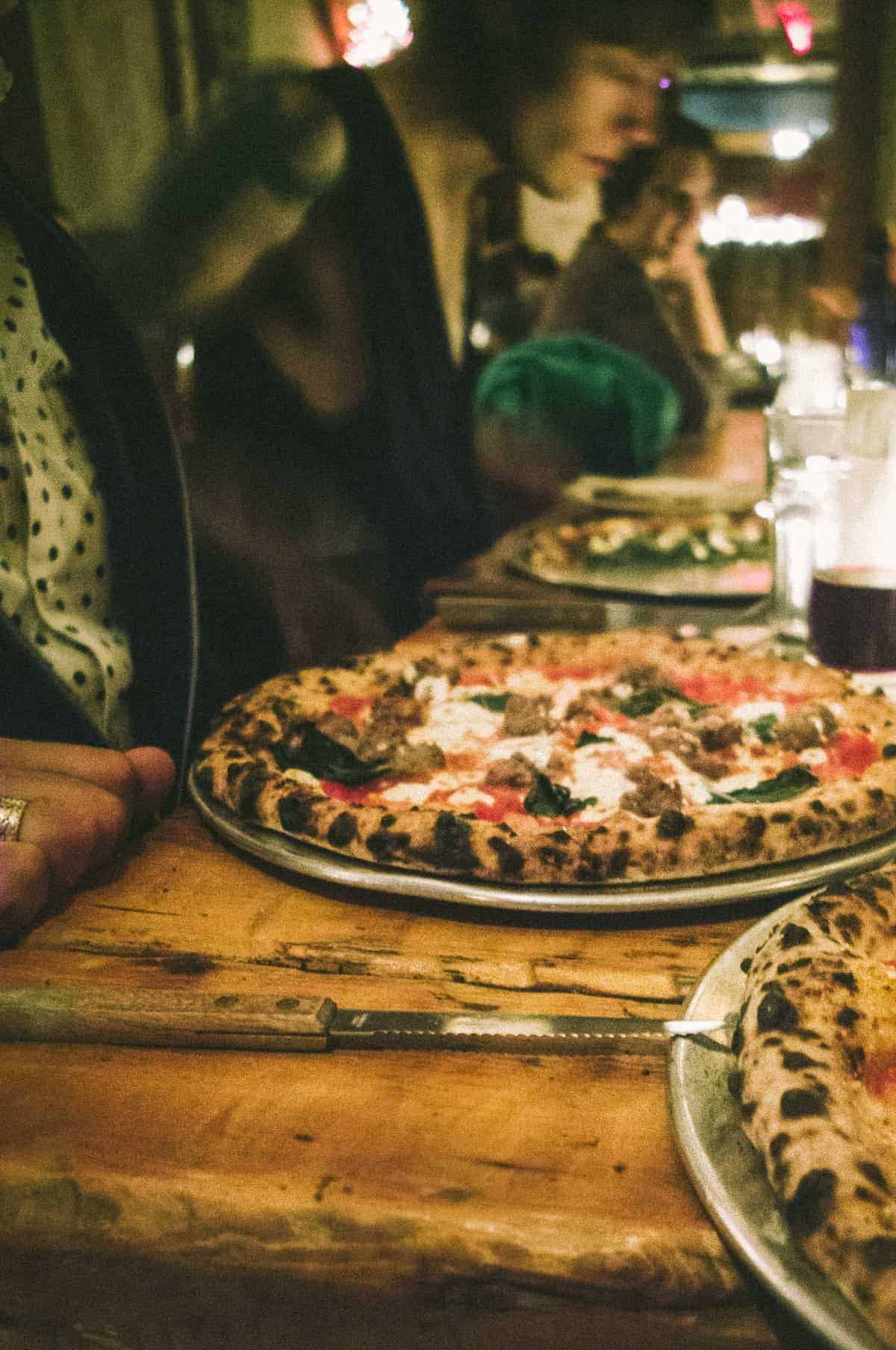 I think I may have found "pizza nirvana".
When you think of nirvana, you think of perfection. The ultimate. The "one".
Without going into a hyperbole of praise, the pizzas I sampled here on two separate ocassions could not leave my memory.
The group I visited with were still talking about the pizza three days later!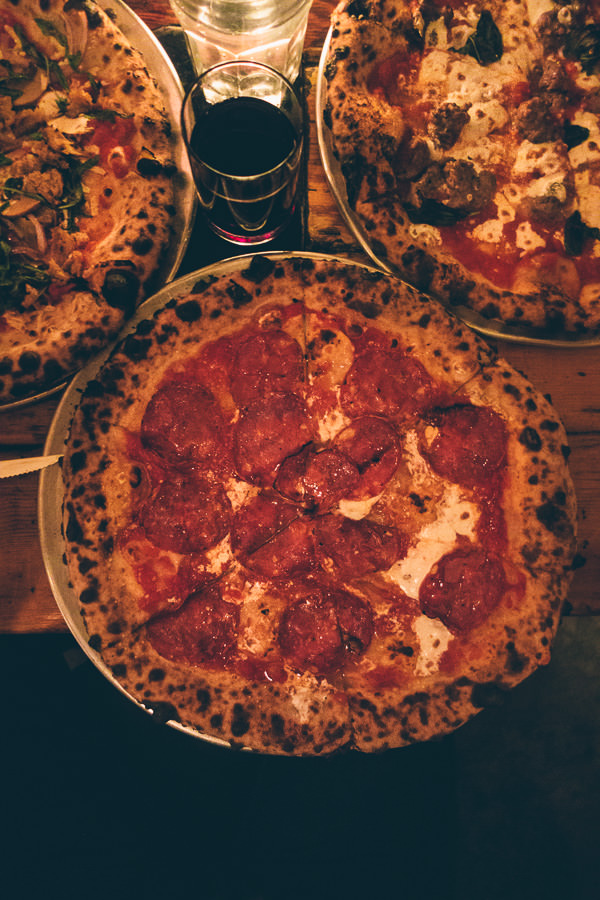 Paulie Gees located in the gentrified area of Greenpoint in Brooklyn, recently allowed my taste buds to be transported to this mythical place I call "pizza nirvana".
I know it's kind of a grandiose question to ask. And I'm sure there are plenty of other pizzerias in New York that deserve equal praise. I'm already planning on trying Roberta's and Motorino on future visits to New York.
These three are often the most compared on most of the review sites out there.
But for now let's stick to Paulie Gee's.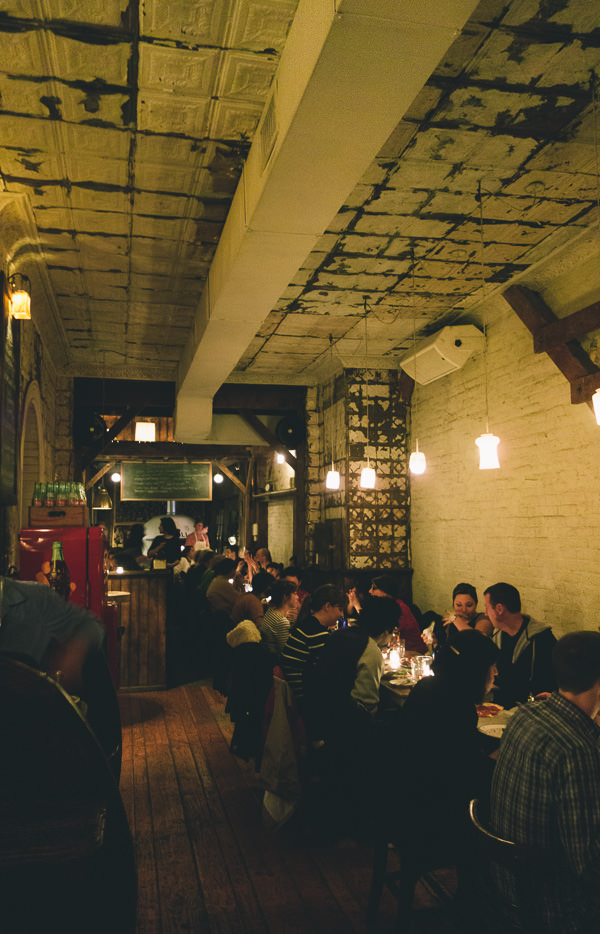 So what was it about the pizzas here that had me gushing worse than a fangirl at a One Direction concert?
It's a number of things. I'm not the world's best restaurant reviewer and I usually prefer to focus on the dining experience as a whole.
But those pizzas…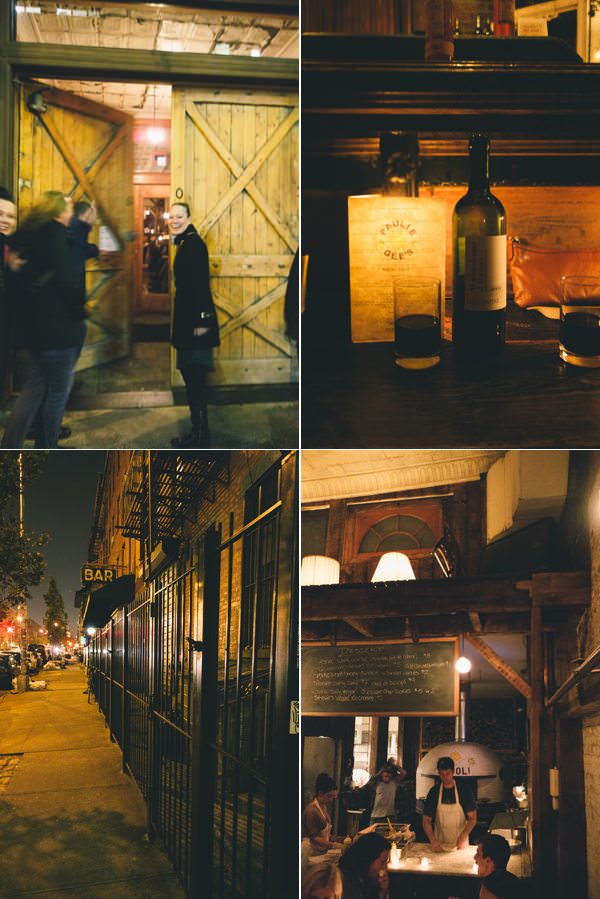 The atmosphere in the restaurant is best described as busy. Very busy. Get there early to secure a table otherwise be prepared to wait. That's not necessarily a bad thing as it allows you to sample a selection of local "boutique-style" Brooklyn beers at the bar.
The decor is reminiscent of a big rustic barn.
Exposed beams, lots of reclaimed wood and there's a little nostalgia with an old fashioned Coca-Cola fridge that serves "real" Coke imported from Mexico. (It's made with cane sugar as opposed to the high fructose corn syrup found in American Coke).
The lights are dim and depending on the size of your party you may or may not share a dining table. On my first visit there we shared a table with two locals who provided great conversation and entertainment. They were "in awe" of our Aussie accents! LOL!
There's also a huge wood fired oven at the back with the words NAPOLI emblazoned on the top. This is where all the goodness is made and the pizza maker tonight is one busy individual.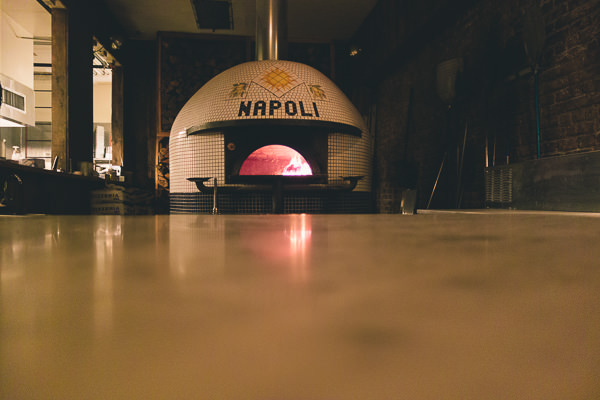 We sampled the Argentininan Malbec and at $15 a bottle it was perfect. It was complementary without overpowering the whole pizza experience.
There's a few salads and one soup on the menu. The gluttinous part of my personality just had to try them.
The salads are a simple combination of greens and most of the goodies that go into them are actually found in the pizzas.
The soup is a Parmesan based broth served with pasta and escarole. If you like that strong cheesy flavour of Parmesan you're going to love this soup. It warmed the insides and the saltiness of the cheese prepped my taste buds for the main event.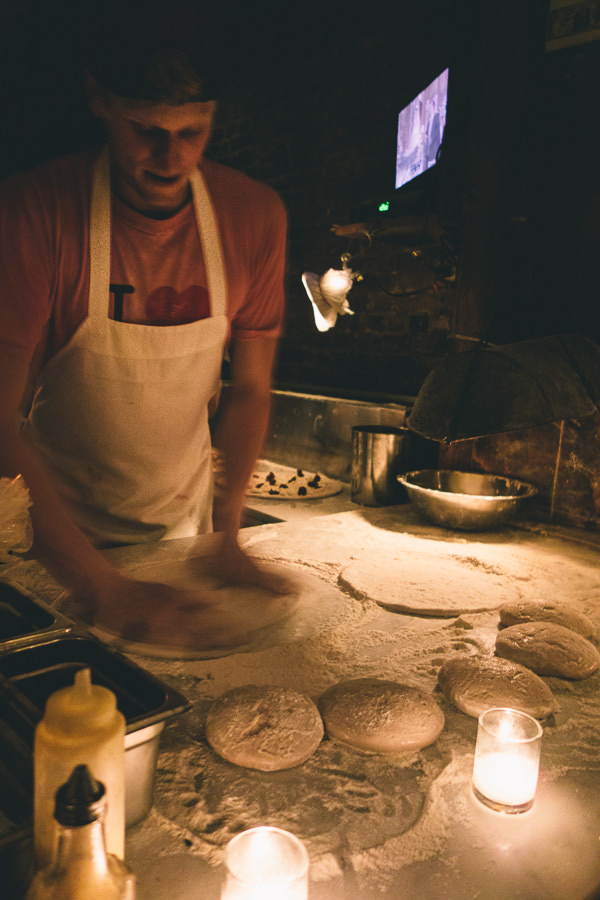 The pizza menu is quite diverse. Prices range anywhere from $12-$20 and there is even a vegan menu to accomodate those on special diets.
I understand everyone has a different notion of what makes a perfect pizza. It's a much debated topic.
Purists will insist that the best pizza will truly only be found in Napoli. Whilst I agree to a point, you can't ignore the many Italians world wide who brought the humble pizza pie to their newly found communities.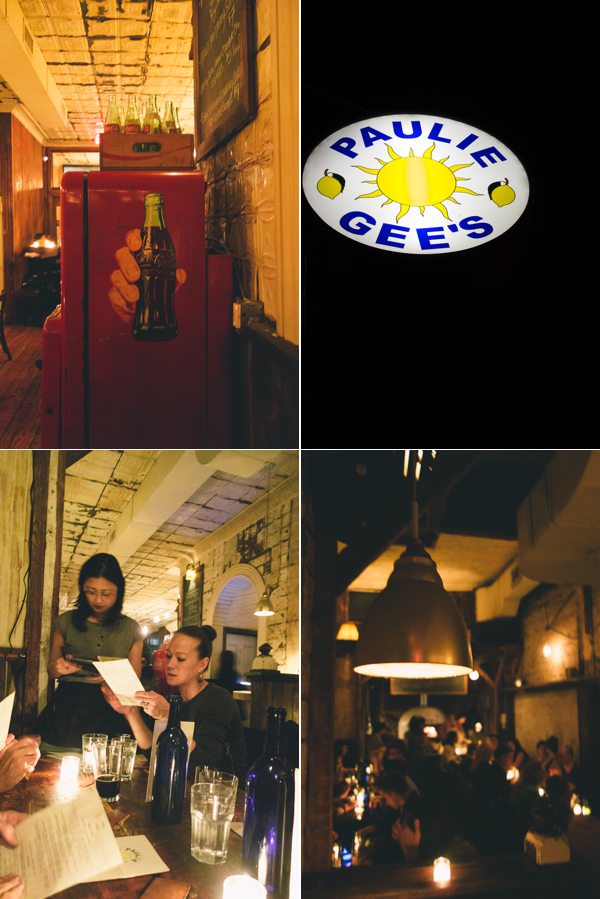 The pizzas at Paulie Gee's have this perfectly cooked charred pillowy dough that is neither too thick or too thin. It's sweetly addictive holding all the toppings in place.
You can "fold" the pizza slice (if that's your preference) and there is no "sag" to speak of.
Fior Di Latte appears on many of the pizzas as does the Berkshire Sopressata and guanciale (cow's milk mozzarella, salami and unsmoked Italian bacon). Fennel sausage, arugula, Parmigiano Reggiano, fresh ricotta and a host of other tasty goodies also make it on top.
Speaking of toppings the most "intrigiung" item on the menu is the "hot honey". It's basically an chilli infused honey that is added on certain pizzas.
And don't forget the bacon marmalade! Oh yes!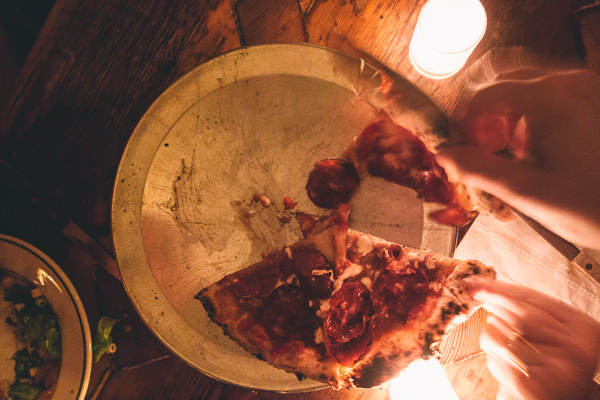 The stand out pizza for me was the "Daniela Spinaci" (Shaved Parmigiano Reggiano, Fior di Latte, Sliced Fresh Garlic, Fresh Baby Spinach and Olive Oil). It's a vegetarian pizza that will keep the vampires away!
The garlic is a little heavy handed but that's what makes it oh-so special.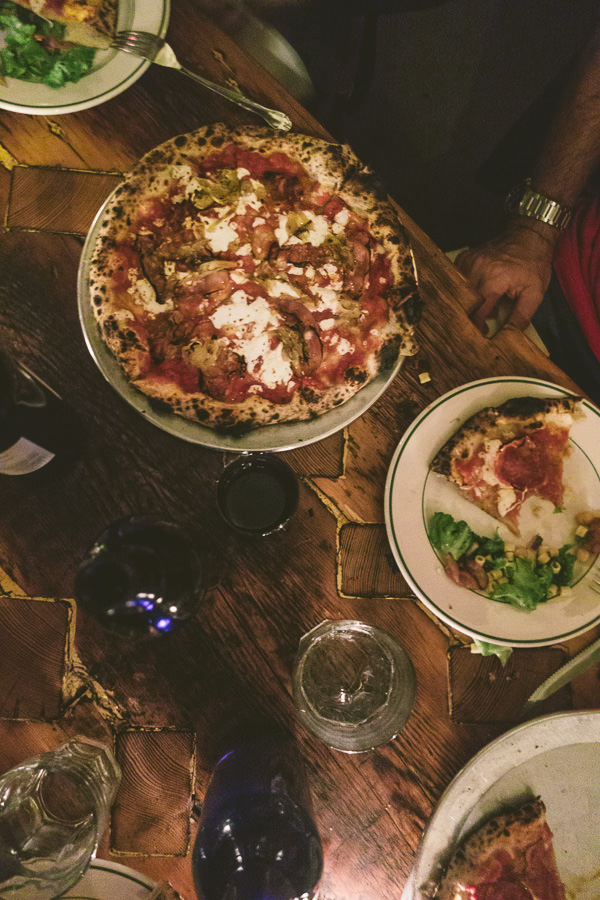 My enthusiasm for this place is probably echoed by the many other reviews found on other popular review sites.
That's how I came across it and I too was skeptical.
"Are those pizzas REALLY that good?" I asked myself.
In my opinion, yes.
It might sound like over the top hype but I don't really talk about places unless I really like them.
This place is definitely a winner.
If you're heading to New York on holidays, head on over to Brooklyn and try out Paulie Gees.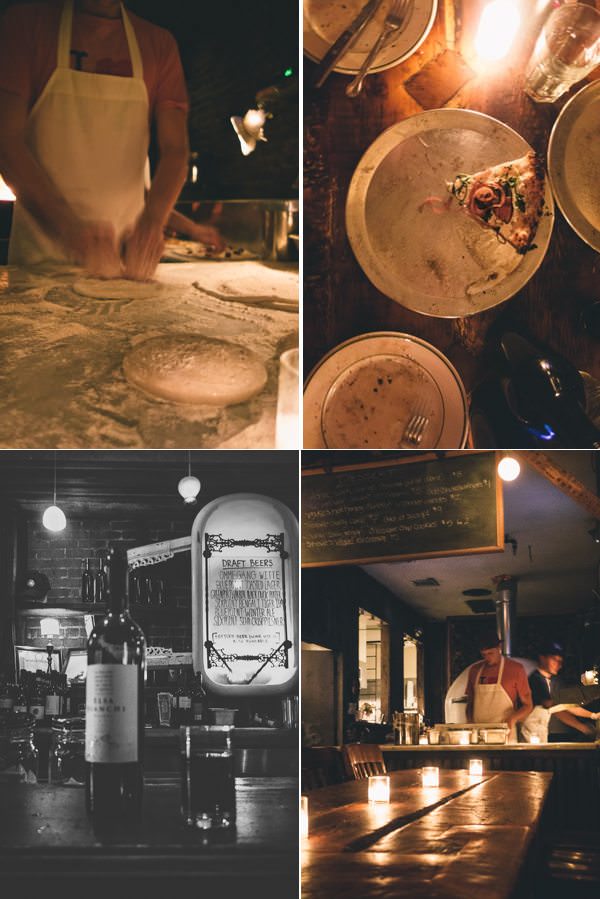 PAULIE GEES
60 Greenpoint Avenue
Brooklyn, NY 11222