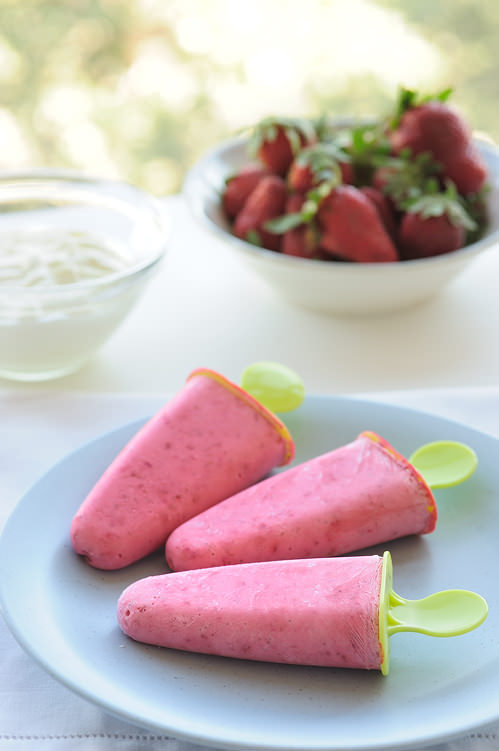 Ok. It's hot. Bloody hot!   "Ζεστη" as we say in Greek.  (And I'm sweating like a mad Greek!)  I want something that will cool me down and calm me down.  It's fierce out there!  And it will be the same tomorrow apparently.
For a bit of comfort and childhood nostalgia I'm making my own "pops".  Nothing beats a bit of Greek yoghurt and summer berries blended together and frozen.  I made it.  I know exactly what goes into it.  I know it's good for me.  There are so many different berries you can use to make these.  In this case I used strawberries.  Leave it overnight and enjoy it the next day.  Come on.  You know you want to.
RECIPE FOR YOGHURT AND BERRY POPS
(makes 8-10 depending on the size of your ice cream mould.  N.B. you can buy these "ice cream pop" moulds from any of the major shopping stores. I picked mine up from IKEA).
1 punnet or 250 grams of your favourite berries (I used strawberries)
2 tablespoon of caster sugar
juice of half a lemon or lime
1 small tub of natural, thick Greek yoghurt
3 tbsps of honey
Place your berries, sugar and juice in a non reactive container and mix well.  Place in the refrigerator for at least two hours.
Remove the macerated berries from the fridge  and place in a blender or food processor along with their juice and the honey and  mix well.  Add this to the Greek yoghurt, give it another quick mix and place mixture into ice cream moulds. Freeze for a minimum of 4-5 or overnight.
Once set and frozen, dip the outside mould into a glass of warm tap water for about 10 seconds.  This allows them to be removed a little easier.
Serve immediately and enjoy!  (Acting like a kid is optional)